Amid the large number of trees which succumbed to Storm Ali, Madras College in St Andrews was counting the loss of its familiar chestnut tree which came a cropper in the high winds.
Madras College, the historic St Andrews school founded by Dr Andrew Bell in 1833, and so named because of the pupil-to-pupil teaching system he developed whilst in India, stands on the site of the town's former Dominican, or Blackfriars, friary.
Experts believe the tree stands on the ground that originally lay just outwith the footprint of the central historic friary, but Douglas Spiers, Fife archaeologist, bemoaned the loss of a tree that will be fondly remembered by generations of staff and pupils.
"It's important to recognise the cultural and historic value of many of Fife's older trees," he said.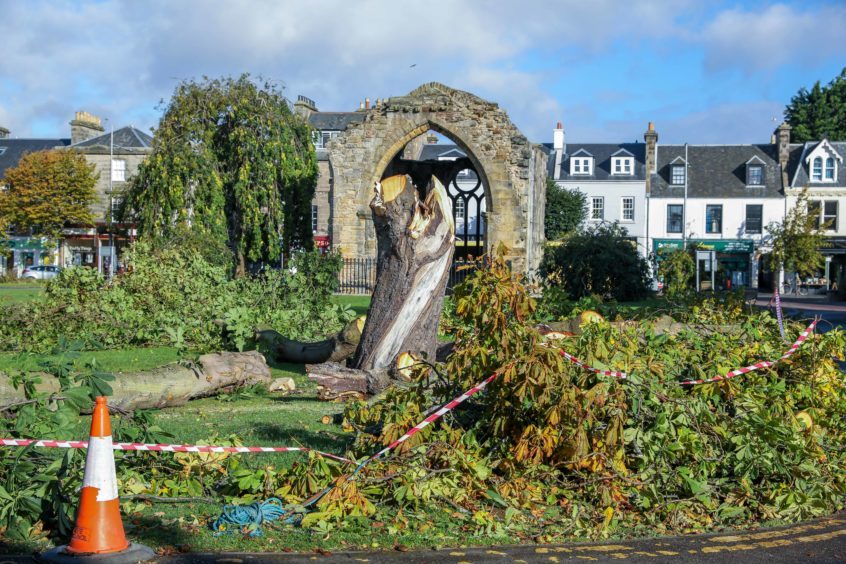 "Indeed, archaeologically speaking, we consider many to be 'green monuments'.
"That said, the chestnut tree in question, whilst a tree of great beauty that adds much to the character of Madras College, it is not a tree of any great antiquity, nor part of any historic designed planting scheme. But it does stand on a deeply historic site.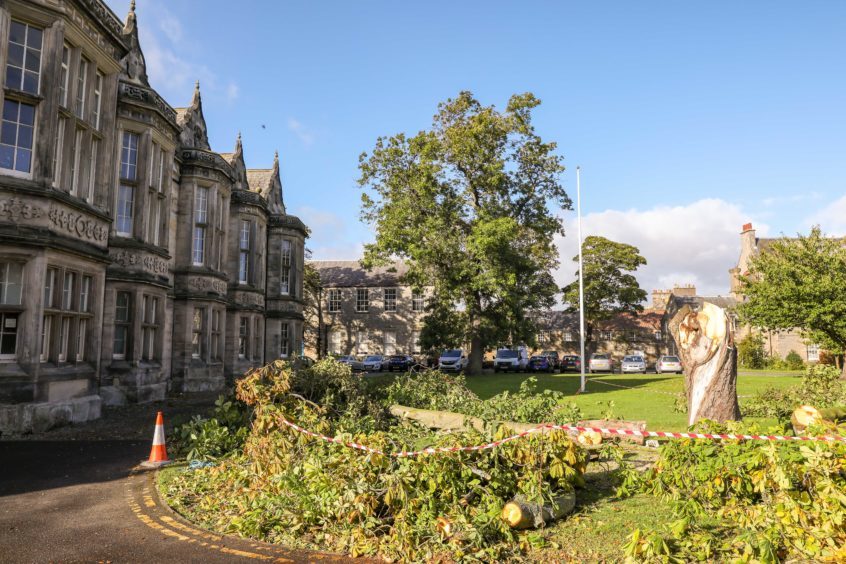 "Established around 1460, probably by Bishop Kennedy, the Dominican presence in St Andrews was at first small but it expanded significantly during the early 16th century with the construction of a full friary – the town's iconic Blackfriar's chapel (the friary chapel's north transept) being all that remains of the monastery which was destroyed on the eve of the Reformation in 1559.
Storm Ali: Flood warnings in place across Tayside and roads remain closed as clear-up begins
"The site is still within the protected (scheduled) area of the friary and is still considered to be an important part of the former friary complex.
"No doubt its roots are firmly embedded in the underlying archaeological strata."
After tents erected for the forthcoming Alfred Dunhill Links Championship were blown over at the peak of Storm Ali, police urged members of the public to take extra care around the St Andrews Old Course as blustery conditions persisted.
Most roads and rail routes were back up and running as normal after significant disruption seen on Wednesday. However, there were delays and cancellations reported on the early morning Fife Circle rail services after a train struck an overhanging tree.
Meanwhile, Fife Council trading standards' service urged people to use reputable traders to fix any storm-related property damage, adding that people should be vigilant against cold callers or rogue businesses.