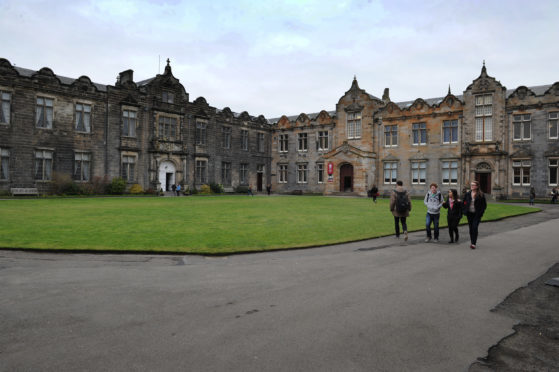 St Andrews University has been shortlisted for the UK University of the Year title after retaining its third place ranking in a well-respected league table.
The Fife institution was the top ranked Scottish-based university in The Times and Sunday Times Good University Guide 2019, consolidating third place in the UK after recording particularly strong scores on key measures of teaching excellence and student experience.
However, it missed out on being named Scottish University of the Year after that was claimed by Aberdeen University, which was rewarded for climbing the league table for the third year in succession.
Rising 14 places from 40th to 26th in the UK rankings, Aberdeen scored gains in five of the nine performance indicators used to rank universities in the annual undergraduate guide, and, like St Andrews, will go forward to a five-strong list of institutions vying for the overall UK University of the Year award.
Alastair McCall, editor of The Sunday Times Good University Guide, said St Andrews ranks third in the UK for the third successive year and is comfortably the top-ranked university in Scotland in the new table.
"No university in the UK can match St Andrews for its outstanding levels of student satisfaction," he said.
"Ranked third in the UK this year for satisfaction with teaching quality and top again for satisfaction with the wider student experience, St Andrews students are a happy bunch.
"They know they're on to a good thing and benefiting from a high-quality education that will stand them in good stead throughout their working lives ahead."
Mr McCall added that Aberdeen had been named Scottish University of the Year after improved performances in most of the metrics used in the league tables.
"Aberdeen's sharp rise up our league table this year is the biggest of any university in the top 30 and gives it a ranking commensurate to its status as one of the UK's leading academic institutions," he added.
"Aberdeen selects some of the most highly-qualified school leavers, who go on to achieve excellent degrees and become highly sought after in graduate employment market. No wonder students speak of the university so highly.
"The university's contribution to cutting edge research in fields as diverse as medicine and offshore engineering demonstrate that excellent teaching and research can go hand in hand – and are not the either/or options that some pretend them to be."
Dundee University was ranked fourth in Scotland, behind St Andrews, Glasgow and Aberdeen, but dropped from 23rd in the UK last year to 27th.
Abertay University was 13th in Scotland but it too fell in the national standings, from 98th last year to joint 105th.