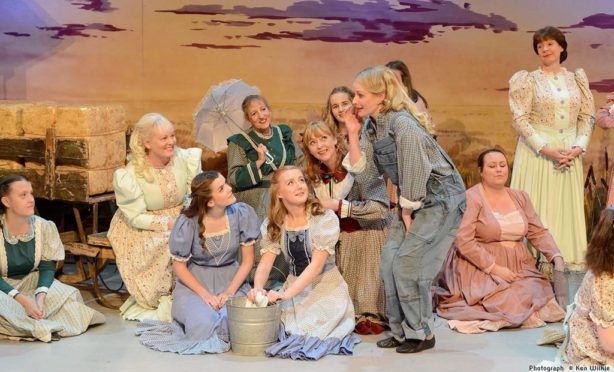 The old theatrical adage is that the show must go on.
And in Fife that was put to the test, with Glenrothes Amateur Musical Association earning a standing ovation in overcoming the odds this weekend.
Everyone rallied round Gama to ensure Saturday's two shows went on following the last minute cancellation of its performance of Oklahoma! on Friday when the venue, the Rothes Halls, was evacuated.
The Glenrothes theatre was sealed off following reports of a "suspicious communication" at Friday lunchtime.
With the timing of the event leaving little time until curtain up to contact the cast, crew and audience members, Gama president Glen McGill applauded the huge team effort, including Fife Cultural Trust staff, to try to ensure no one had a wasted journey.
More than 300 people were expected to be heading to see the classic Rodgers and Hammerstein musical when disaster struck.
However, the Rothes Halls was eventually given the all clear by Police Scotland on Friday evening, allowing Saturday's matinee and evening performance to go ahead as planned.
Gama took to social media to put out an appeal to make both of Saturday's shows a smash hit.
Glen said: "We are up and ready for making the best of another beautiful day in Fife."
Saturday's matinee was played to a sold out auditorium, but an appeal went out to ensure the evening show was also filled.
Many people due to see the Rodgers and Hammerstein musical on Friday were unable to get along on Saturday.
But others who have already seen it were coming back to show support.
With Friday's cancellation, Gama took a big financial hit.
And so Glen appealed for the public to rally round and ensure the Rothes Halls was packed to the rafters for its season finale.
"Putting on a show like this is highly expensive," he said, adding it was easy to spend more than £20,000 staging a show of this quality.
"So we are suffering a financial loss, and if you want to support local theatre in our community come along and help us fill the house," he added.
The Gama family has been overwhelmed by the support and words of encouragement received.
Some are not asking for a refund to help out. Others are also making donations to the association in a tremendous show of community spirit.
"The show must go on," Glen said, adding the company was raring to stage two "rip roaring" shows to bring the curtain down on the 2018 run.
And already thoughts have turned to the association's next show, which will be the toe-tapping 42nd Street.