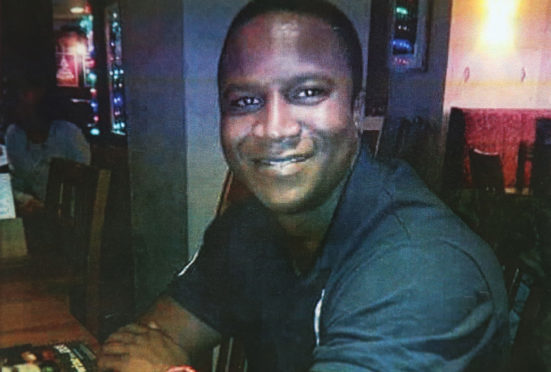 The sister of Sheku Bayoh has claimed Scotland's most senior law officer has betrayed her grieving family.
Just days ahead of a meeting with Lord Advocate James Wolfe, Kadi Johnson said he should be ashamed of the way the Crown Office has handled the investigation into her brother's death more than three years ago.
Sheku, a 31-year-old father of two, died after being restrained by police officers in Kirkcaldy in May 2015.
Since then the family has fought for answers about the events of that night.
Only a week ago they faced fresh heartbreak when a story was leaked to a national newspaper that it would appear no police officer would face prosecution.
Speaking to the Sunday Mail, Ms Johnson said the family had been shattered by that revelation.
She said she was so upset, she was sick the whole day.
The nurse said it was disrespectful towards the family that the news came out in the way it did.
Now she wants to look the Lord Advocate in the eye during Wednesday's meeting.
"I want to hear the decision from him before I believe it," she said.
"If it's true, I'll ask him where justice is for Sheku."
She added: "Mr Wolfe should be deeply ashamed of the total betrayal of our family.
"We're heartbroken, but we'll wait to see what he has to say."
Ms Johnson talked of the way the family had been "worn down" during the long wait to get to this point.
"We waited all this time hoping that someone may be held to account for the terrible death my brother suffered – but it seems it is not going to be the case.
"We live in hope that maybe, somehow, it was just speculation and things will change but we're realistic."
The family is pursuing a £1.85 million damages case against Police Scotland Chief Constable Iain Livingstone and is campaigning for a public inquiry.
The family's solicitor Aamer Anwar said they had been "shell shocked" at the leak, adding they felt betrayed and bitterly disappointed with the Crown Office.
The Crown Office said: "We're meeting the family in the near future to update them and it would not be appropriate to comment further at this time."