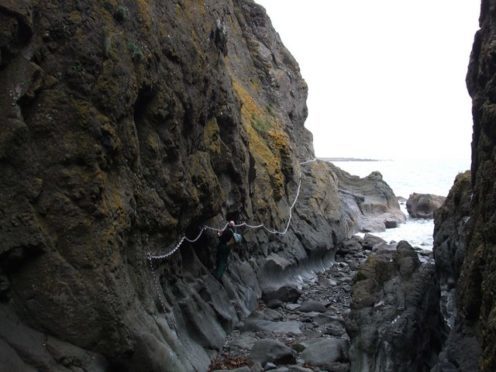 Two people were rescued from Elie Chain Walk after becoming trapped on a steep embankment.
The man and woman were caught out by the incoming tide as they traversed the challenging rock face trail and tried to scramble up the hillside.
However, they became stranded on a steep slope and raised the alarm on Thursday afternoon.
The Maritime and Coastguard Agency dispatched teams from St Andrews, Leven and Kinghorn to rescue the pair by rope.
Anstruther RNLI also launched its all-weather and inshore lifeboats and the Scottish Fire and Rescue Service rushed to the scene at the Elie end of the walk.
A coastguard spokesperson said: "We had a call from the fire and rescue service at about 2.45pm regarding two persons stranded along the chain walk at Elie."
Shortly after 3.30pm he said that a rope rescue was being set up and at 4.35pm the second casualty was hoisted to waiting paramedics.
Another coastguard spokesperson later said: "Both casualties have been recovered, both of them safe and well, to be checked over by the ambulance crew."
Emergency services are called upon several times a year to rescue people who have fallen or become stranded by the tide at the chain walk.
There have been calls for better signage at the popular but potentially deadly tourist attraction.
The walk features a series of chains embedded in the rock and each year thousands of people climb, crawl and scramble the tricky route.
Signs at the start warn that it should only be attempted when the tide is low enough.
High tide at nearby Anstruther Easter on Thursday was at 3.35pm.