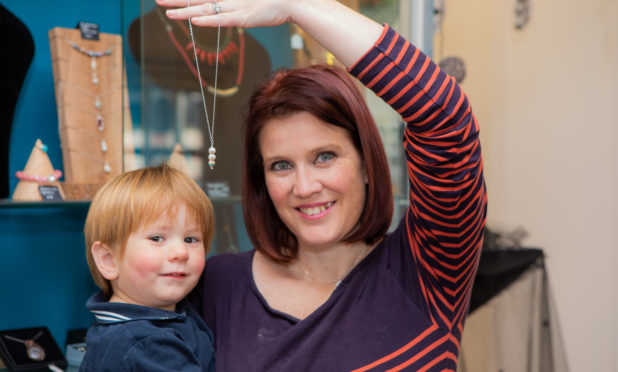 A Fife mum, who suffered the grief of losing a baby in 2015, has designed a range of jewellery to help others through the heartache.
Louise Humpington, who lives in Kinghorn, has created the items under her Leviko Designs label to remember babies who have been lost to miscarriage or stillbirth.
The Peas in a Pod pendants commemorate angel babies and celebrate the birth of rainbow babies – children born after "the storm" of a pregnancy loss.
Louise, whose pieces are sold around the world, hopes her jewellery will bring comfort to families and act as a taking point so people can open up about what they have gone through.
And she is donating 10% of the profits to Sands, to support "an amazing charity" and its work with bereaved parents.
Louise revealed her experience as Baby Loss Awareness Week continues and just days before Monday's National Wave of Light event, where candles are lit to remember lost babies.
She and husband Will were living and working in Papua New Guinea when she became pregnant.
"We had always planned to have children, but it happened a bit sooner than we thought," she said.
However, while she was back in the UK on annual leave in 2015, she started bleeding and was devastated to learn her baby had died.
"I had to have surgery," she said.
"Being away from my husband was very difficult.
"We were pretty shell shocked."
The couple took the brave decision to try for another baby and she fell pregnant again soon after.
They are now proud parents of Isaac and Quinn, aged nearly one and two and a half.
Louise said they had been fortunate that miscarriage was a one-off for them.
"I know from speaking to a lot of women quite often it can be repeated," she said.
"The emotions and turmoil you go through every single time is just heartbreaking, unbelievably heartbreaking."
However, having registered their own grief, they felt it was important to be open about it.
"We shared our story with our friends and family, and a number of people said it had happened to them as well," said Louise.
She hopes her jewellery, which she trades on Etsy and at Sea Witch in Kinghorn, will help others to talk about their grief.
"I understand both the enormity of losing a child, but also the stigma which surrounds talking about pregnancy and early infant loss," she said.
"These pieces are designed to empower families to acknowledge their losses, to help normalise the narrative around miscarriage and still birth, and to help people on their healing journey."
Lyndsey Smith, chair of Fife Sands, said: "Sands is so grateful to Leviko Designs – and all of our fundraisers – for helping us to support bereaved families locally."
Volunteer befrienders run support meetings while local fundraising enables the gtoup to work with the hospital to help families make memories with their little ones.
"Sands is one of the many charities worldwide taking part in Baby Loss Awareness Week and we'll be joining the Wave of Light on Monday October 15 at 7pm by lighting a candle for our babies briefly known, forever loved," she said.
---
Our babies briefly known, forever loved
They say time can be a healer – and it can be in some cases – but anyone who has gone through the death of a baby will know the grief and sadness will never truly leave you, writes The Courier's chief reporter in Fife, Craig Smith.
People always ask me how many kids I have and the first instinct is always to say "two", as we now have our five-year-old Melody and two-year-old Heather.
Thankfully I'm strong enough now to always say "three", as our eldest Libby came into the world on May 30 2012.
We had gone pretty much the full term and took joy in every movement and kick, had the nursery painted and were ready to embrace parenthood with open arms.
Then, just days before the due date, she was gone – and we knew she had gone deep down.
We went to hospital the next morning clinging to some false hope, and because we were so far on my incredibly brave wife had to go through the literal and emotional pain of giving birth to our daughter.
She was beautiful in every way and we got to spend several hours with her that we'll always cherish. And then we went home, completely numb, dazed, overwhelmed, disorientated and exhausted by it all.
Fast forward six years and it's fair to say we wouldn't have got through it without the support of the Fife Sands community – and it's also fair to say baby loss is far more common that one might think.
Every story is different and equally as devastating but sharing these stories with others who have been through similar experiences has certainly helped.
Whatever your circumstances, please do light a candle for the Wave of Light at 7pm on Monday night for all our babies briefly known, forever loved.