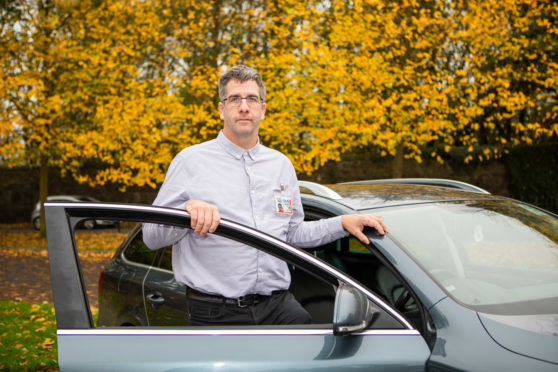 A hero taxi driver stopped a passenger from losing £500 after overhearing a scam call taking place in the back of his vehicle.
William Laing was called to the take the woman from her home in High Valleyfield to a supermarket in Alloa on October 5.
The 45-year-old was alarmed to hear the nature of the phone call and took action to prevent a fraud from taking place.
Mr Laing, who owns Prompt Taxis, said: "Within seconds of listening to the first part of the call in the car, I thought this had scam written all over it.
"The guy on the end of the phone, who didn't have the best of English, said 'don't tell the cab driver anything'.
"I found out that the guy had called her on her mobile and asked her who she banked with.
"When she told him, he said that he was the customer relations manager for Santander.
"He told her there had been a security breach on her account and that £1,800 was paid to Ebay and £500 had been paid to another person.
"She said she wasn't aware of it and he said they would have to put a stop on the account.
"He told her she had to go to Morrisons and to put £500 on a gift card and to then give him the details of the card which would rectify the account.
"There's a particular road towards Kincardine which isn't very good for phone signal and I hoped the call would drop, giving me a chance to talk to her but it didn't.
"I pulled over and mouthed to her that it was a scam so she cut the call off and we immediately called the police."
Mr Laing's efforts have been praised by Fife Council licencing enforcement officer Donald Jenks who is urging other taxi drivers to take note.
He said: "All taxi drivers will be aware of a number of scams doing the rounds that target vulnerable individuals often asking them to move money from their bank accounts as a result of a 'security' breach.
"Thankfully this driver, through discussion with the lady, realised it was a scam and the police were contacted and a crime prevented.
"While it isn't part of your primary role, I hope that drivers who have concerns of a similar nature would take steps to protect vulnerable passengers by advising they contact the police, bank or a family member as appropriate to ensure that don't become the victim of a scam."
A Police Scotland spokesperson said: "Scammers like this actively target elderly and vulnerable members of our communities and often sound extremely convincing.
"However, please be mindful that no legitimate finance company, bank or organisation will ever cold-call to request your personal information, or ask you to make payment in the form of gift vouchers etc.
"If you receive a call like this, please hang up and contact police immediately."