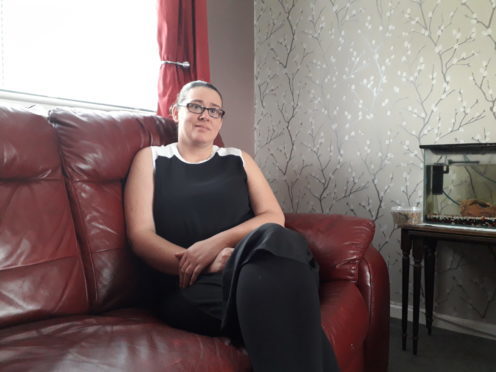 A Kelty mum has told how the controversial Universal Credit benefit plunged her into more than £1,000 of debt after she was forced to wait five weeks for the first payment.
Michelle Melville had her benefits changed over to the new system in February this year after previously receiving around £1,600 a month.
The 40-year-old is now trying to provide for her two young children and maintain a warm home on just £720 a month.
She found herself falling into rent and council tax arrears and was forced to borrow money from friends and family which she is slowly paying back.
Michelle, who now suffers panic attacks and is on antidepressants as a result of the stress, has issued her heartfelt thanks to charity Fife Gingerbread for its support.
The single mum said: "I moved house from a private let into this house and I got told I was having to go onto Universal Credit.
"I was told I would have to go five weeks without any money.
"It was complete hell trying to get things for the house without any money so I had to get an advance which you pay back monthly.
"You can't get a crisis loan without getting an advance so that immediately put me into debt when I had always been debt free until going onto Universal Credit.
"I've just this week managed to pay off a friend who lent me money. But I've still got tax credits to pay back, rent arrears and council tax to pay back.
"I get my money every fortnight and pay my bills, buy food and that's me skint on the same day."
She said the stress had taken a toll on her health.
"I don't like leaving the house now. I constantly worry that I'm going to lose my house. I've had to use food banks," she said.
"Every fortnight I have chose between food, heating the house or buying clothes for the kids.
"When your kids ask you for money to get a roll for their lunch at school and you can't afford it, it breaks your heart."
Michelle said the prospect of paying for Christmas was heaping more anxiety on her.
"I don't sleep worrying about it all," she said.
"I used to be a happy-go-lucky, carefree person. Everybody says I don't smile anymore.
"I have looked at trying to get a job but the cost of childcare is just too high. I could never afford it."
Michelle was introduced to Fife Gingerbread which supports lone parents, vulnerable and disadvantaged families.
She now volunteers and offers advice to other struggling families.
The charity can be contacted on www.fifegingerbread.org.uk.
A DWP spokesperson said:"The best way to help people pay their rent and to improve their lives is to support them into work and Universal Credit is helping people move into work faster and stay in work longer than the old system.
"We've made significant improvements to Universal Credit, such as removing the seven waiting days, paying two weeks' extra housing support for claimants moving onto Universal Credit and increasing advance payments to 100% which can be repaid over a period of up to 12 months.
"Landlords can also apply to have rent paid directly to them if their tenants are in arrears."