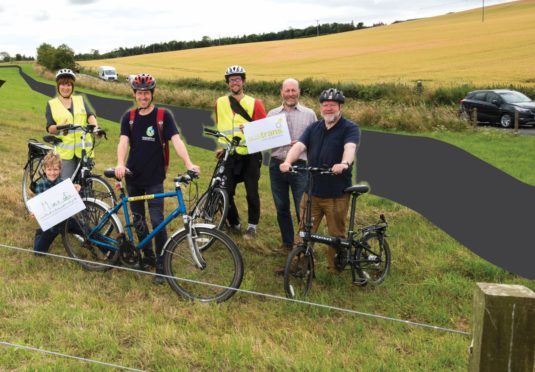 Scores of local businesses will benefit from a proposed cycle path between Crail and St Andrews, according to a new study.
Communities situated between the two Fife coastal towns are working to realise a long-term goal to link up via a 10-mile shared path, which is part of a wider East Neuk 50 initiative to link Kirkcaldy and Dundee via a single coastal shared use route.
The project is being led by Transition University of St Andrews in collaboration with other organisations along the route and landowners are stepping up to support local business and communities by allowing the path to cross their land.
A new study has estimated at least 70 businesses – ranging in size from small bed and breakfasts to large attractions like Cambo Estate or the Castle Course – will cash in on the creation of the off-road section between Crail and St Andrews.
A further 20 businesses in Anstruther are likely to benefit, while it is understood a large number of firms in St Andrews itself could feel the effects to a smaller extent, not yet included at this stage of analysis.
Methil-based consultant Crispin Hayes, who is helping to deliver the project, has more than a decade's experience in developing rural utility cycle routes and believes the benefits from the cycle path would be huge.
"We were pleasantly surprised when we began our economic analysis of the path to discover that so many businesses will benefit," he said.
Mr Hayes added the project's next steps will include further meetings with landowners and businesses to explore the opportunities presented by the new path.
A number of landowners along the path route have already agreed to take part, such as Struan Erskine of Cambo Estate.
He said: "We are looking forward to visitors being able to arrive by bike.
"A safe, off-the-road path is an important part of making this happen. More generally we think cycle tourism has a lot to offer us in terms of a sustainable visitor business."
Landowner and Kinkell Byres proprietor Sandy Fyfe is another to allow the cycle path across his land.
"We are very happy to contribute to the cycle path being created because it makes cycling safer for everyone," he added.
Supporters of the link between Crail and St Andrews argue that it will offer a safer commute for people in north east Fife via bike and on foot, while also providing tourism and leisure opportunities with the Fairmont Hotel, Cambo and multiple B&Bs all expected to be connected via the path.