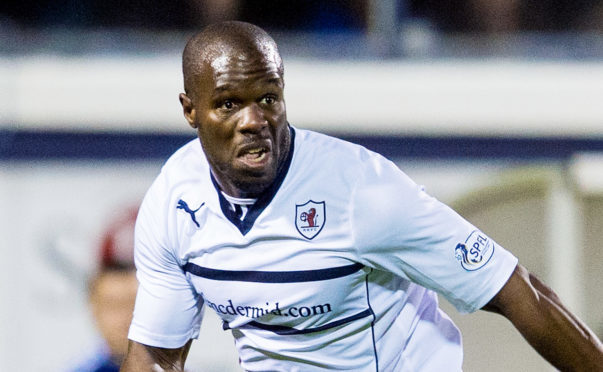 Former Dundee, Raith Rovers and East Fife striker Christian Nade has opened up about his battle with depression.
The 34-year-old, who currently plays for Troon, has urged others with mental health problems to seek help after revealing he considered suicide during his time at Stark's Park.
It came on the day Hearts captain Christophe Berra gave his backing to a campaign encouraging men to speak out about their mental health
Nade revealed he made an attempt to take his own life in December 2014, saying: "I just thought: 'I don't have time for this anymore'. But it was the worst decision I could have made.
"I should have been thinking about my family, friends and all the people I love before I did it. But I was thinking about myself, and not them.
"I'm telling my story to help other people. They need to know that there's always another way out."
The striker also talked about a recent court appearance, when he was cleared of six charges, including allegations that he assaulted his ex-girlfriend Laura Kennedy and threatened to kidnap a child.
He broke down in the dock when he was acquitted at Paisley Sheriff Court. The Frenchman said dark thoughts resurfaced following the claims.
"It had been a very tough six months. The pressure on my shoulders just went off, though I knew I'd be found not guilty," he said.
Nade was diagnosed with depression in June and said his religion and his role as a father had helped him through difficult times.
"I want to talk about all this to show there's hope out there," he said.
"Time will heal everything. I feel better now. I can't stop smiling. Thinking of my son saved me six months ago. I don't want him to grow up without a dad."
Elsewhere, Berra was at Tynecastle on Tuesday to support the Changing Room project, which aims to promote men's mental health through football.
The scheme, launched earlier this year, brings men aged 30 to 64 together to take action and discuss mental health.
He said: "The programme will provide the right environment for them to come together for a chat and improve their wellbeing."
Robert Nesbitt, head of physical activity and sport at the Scottish Association for Mental Health (SAMH), added: "We want men to start conversations whether it's in the stadium, in the stands, in the online chat rooms, even in the queue for pie and Bovril if you want.
"We just need men to open up."
The Samaritans offers a 24-hour support service for people in crisis. The charity can be contacted from any phone by dialling 116 123.
Alternatively, people seeking help can visit one of the charity's local branches. More information can be found at samaritans.org.