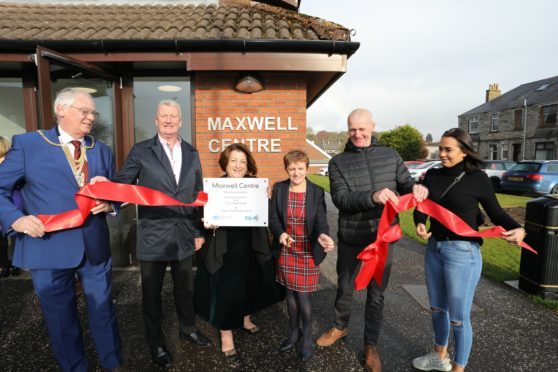 Tributes have been paid to Cowdenbeath community champions with the opening of a new hub.
The Maxwell Centre on Stenhouse Street was officially opened on Friday.
It is named after late husband and wife Alex and Mary Maxwell who did so much for the town, left in mourning in 2014 when it lost Mr Maxwell and then his wife, a former Citizen of the Year, only three months later.
The former mining town's new community hub, which has replaced the Broad Street Centre, offers a range of services.
These include a youth room which can host a range of activities.
It can cater for all types and sizes of organisations.
It also has a learning kitchen to give families access to healthy cooking advice.
The £2.8 million Maxwell Centre was named after the couple who were considered community champions.
---
>> Keep up to date with the latest news with The Courier newsletter
---
Mr Maxwell served for many years as a local Democratic Left councillor and was involved in youth sports, in particular football.
Mrs Maxwell worked tirelessly in the town and was a leading figure in the civic week committee for more than three decades.
She was given an unsung hero award by the former Fife Constabulary.
Labour Judy Hamilton, the convener of Fife's community and housing services committee officially opened the centre.
She said: "I am honoured today to pay tribute to the late Councillor Maxwell, and Mary, who together were the driving force behind many community initiatives over so many years.
"This lovely facility is a huge tribute to them and to the people of Cowdenbeath who have brought forward their vision to the council and we have worked tirelessly to achieve it together.
"This centre will be at the heart of its community and serve the whole community for many years."
Convener of Cowdenbeath Area Committee,  Labour councillor Linda Erskine said: "I was delighted that Alex and Mary's sons, Neil and Gordon and their granddaughter Melissa were able to join us to mark the official opening today.
"This is a magnificent development for the people of Cowdenbeath and beyond.
"Although it has only been open for a few months, I'm pleased to see the extent of it being used and enjoyed by the local community already."
The centre is open Monday to Friday between 8.30am and 9.30pm and on Saturday and Sunday as required.