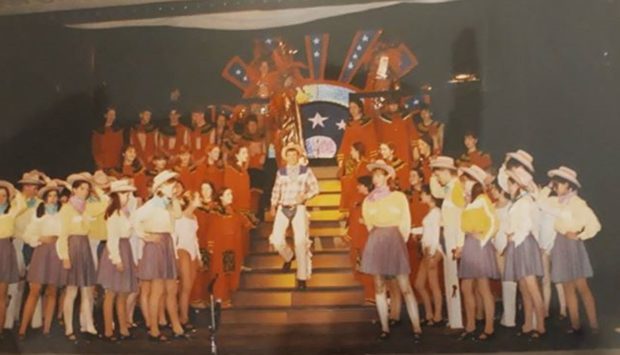 Scotland's oldest youth theatre is celebrating 60 musical years with a nostalgic singalong.
Current and former members of Kirkcaldy Youth Music Theatre will join together this weekend to perform numbers from the many shows staged by the group over the past six decades.
Formerly known as the YWCA Teenage Opera Group, thousands of youngsters have trodden the boards since the curtain went up on their first show The Rajah of Rajahpore in 1958, firstly at the YWCA on Kirkcaldy's Esplanade and later at the town's Adam Smith Theatre.
While for most, the musicals represented fun, friendship and confidence-building, others have gone on to forge successful careers in show business.
Anne Smith has been performing in sell-out West End shows since she landed a role in Evita in 1984 and Andrew Panton is now artistic director at Dundee Rep, having worked internationally in theatre, film, television and music.
More recent member Glenn Macnamara was hailed by Time Out magazine as one of the UK's finest swing singers.
Glenn will return to his home town to perform in Saturday's extravaganza, as will fellow former members Neil Laidlaw, who now has his own West End production business, and actor Anthony Strachan, who starred in the 1999 hit movie The Trench, as well as various popular TV shows.
The group is run entirely by volunteers, including stalwarts Monica Holland and brothers John and Alan Urquhart.
Monica, a former drama teacher, said everyone was very excited about presenting the 60th anniversary show, which is in addition to the annual musical staged by the company every February.
"We're a very inclusive group and are open to all secondary school kids," she said.
"We have an open door policy and the members pay very little. We've got really good kids."
Over the years shows have included old favourites South Pacific, Annie Get Your Gun and Joseph and the Amazing Technicolour Dream Coat.
The move to the Adam Smith Theatre prompted more ambitious productions such as Miss Saigon and this year's performance of the European premier of Cry-Baby The Musical.
Next year, the youngsters will present Chicago.
This Saturday will see a fundraising event at St Bryce Kirk, Kirkcaldy, from 10.30am to 12.30pm, followed by the show at the same venue at 7pm.
Tickets will be available on the door or by phoning Harry Kerr on 01592 203161.
Further details can be found on the YWCA Teenage Opera Group Facebook page.