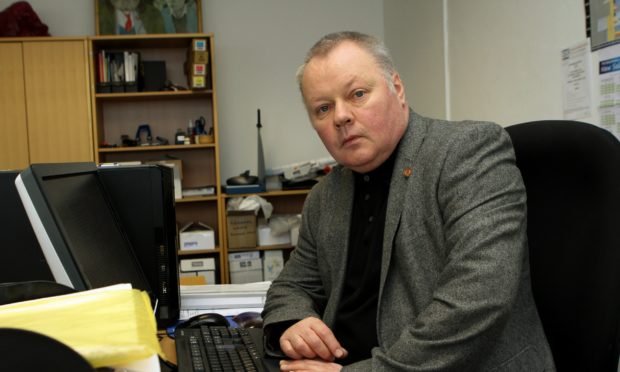 A pupil has been charged after a teacher was stabbed in the neck at a Fife secondary school.
The 15-year-old boy allegedly attacked the female teacher with a sharpened pencil in front of other shocked students.
A report into the September 25 incident has been submitted to the Children's Reporter.
The high school concerned cannot be named for legal reasons but the teacher is said to be recovering.
The EIS teaching union claimed incidents of violence against teachers were happening with "alarming regularity" in schools across the region as behaviour in some schools reached crisis point.
Worried parents have also expressed fears for their children who, they said, were being put at risk.
One parent said: "Over three weeks ago a serious incident occurred whereby a male fourth year pupil deliberately stabbed a female teacher in the neck with a sharpened pencil which embedded in the left side of her neck.
"This incident took place in front of other students.
"As a parent of one of these pupils, it is beyond belief that my child may be put at serious risk as this offender can return to school with no consequences."
David Farmer, publicity officer with Fife EIS, said schools were dealing with physical or verbal violence on a daily basis.
"It does happen with alarming regularity and our fear is something really bad is going to happen," he said.
"I can think of teachers who have been kicked, spat on and beaten by kids who do know what they are doing."
Mr Farmer said the EIS supported restorative practices where, if a child behaved violently towards a teacher, dialogue would be opened up between them to restore the situation.
But he called for consequences for pupils for whom this did not work.
"We're not convinced that in some schools this actually happens," he said.
Fife Council said it took the safety of all children and staff seriously.
Education manager Gordon Wardrope said: "Our schools have a range of measures and procedures which support the wellbeing of all in the school community.
"Where incidents do occur these are dealt with timeously by the school.
"On the rare occasion that there are more serious incidents, schools work in partnership with Fife Police to respond appropriately."
A Police Scotland spokesperson confirmed: "Police in Fife have charged a 15-year-old boy with the assault of a female teacher at a school…on September 25 2018.
"A report has been submitted to the Children's Reporter."