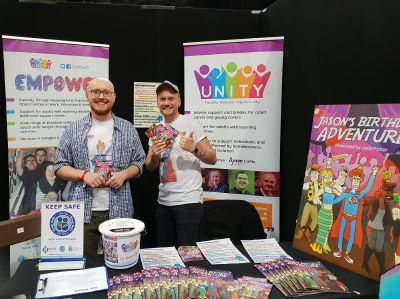 A Fife artist has illustrated what is believed to be the first comic book aimed at adults with a learning disability.
Jack Potter from Cupar jumped at the chance to create the images for Jason's Adventures amid a lack of appropriate materials for adults who struggle with reading.
The comic aims to promote the message that everyone can achieve, no matter their circumstances.
It was Jack's first project since graduating from West College of Scotland in Glasgow with an HNC in illustration earlier this year.
The 25-year-old got involved after being approached by a friend James Watt, who works with Glasgow-based charity Unity's learning disability service.
The group had wanted to boost people's reading skills but found the books available to them were all aimed at children rather than adults.
"James thought, 'why don't we write it ourselves?' so they came up with the story and approached me to illustrate it," said Jack, who donated his time and skills free of charge.
The result was Jason's Adventures, which tells the story of a young man celebrating his 21st birthday and his journey to safety after he gets lost in a city centre.
"It was finished about a month ago and we took it to Comic Con Glasgow to show it off," said Jack.
"We got a lot of interest there and the next step is to get it published."
The group, who have already begun penning a sequel, have now launched an online fundraising page at crowdfunder.co.uk/jasons-adventure to raise enough money to realise their dream.
"We've tried to find other similar things but we've found nothing so far," Jack added.
"We're pretty sure it's unique."
James praised Jack's involvement in the project.
"Jack joined the group, listened to what they wanted, took direction from them and he brought colour and life to their characters and story," he said.
"It was an amazing project to be involved in."
Unity chief executive Emma Soanes said the comic book was important and exciting.
"It stands strong and proud alongside established comic-based stories but is accessible to everyone and, for some – possibly for the first time – offers real and meaningful representation," she said.
A Crowdfunding link for the project is available via https://www.crowdfunder.co.uk/jasons-adventure.