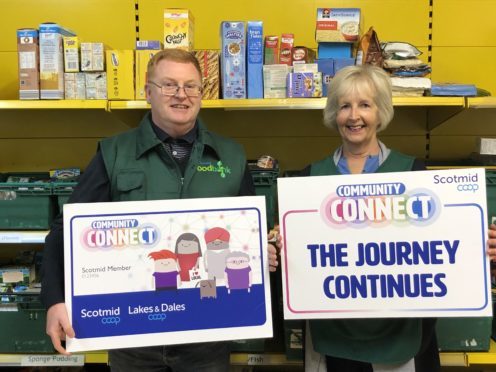 Dunfermline Foodbank is hoping to win a cash windfall, to help more of the local community in need.
The foodbank has fed more than 5,000 people in the last 12 months.
With demand growing on a daily basis, the charity aims to use potential funding to enable it to recruit additional volunteers, take on an extra member of part-time staff and have a larger distribution warehouse.
It's been shortlisted to become one of the latest recipients of funding from Scotmid Co-operative's Community Connect initiative.
It could potentially be awarded £15,000 to help strengthen the vital service it provides.
Community Connect was launched last year. It enables customers to award funding, generated by way of the sale of single use carrier bags,  to good causes.
In Scotmid's east member region, which takes in Fife, Edinburgh and the Lothians, Dunfermline Foodbank is one of three nominees which have been shortlisted by a selection panel to receive either £2,500, £7,500 or £15,000.
It is up against two Edinburgh-based projects – Health in Mind and Venchie Children's and Young People's Project.
Customers collect votes by swiping their Community Connect card every time they shop and then cast their votes for their preferred good cause either in store or at Scotmid's east region annual meeting in April.
Supported by the Trussell Trust, Dunfermline Foodbank gives local people in food crises a "hand up, not a hand out" by providing three days' worth of emergency food and signposting other help available in the longer term.
It covers a vast area of south and west Fife, including Benarty, Cowdenbeath, Inverkeithing and Rosyth.
Dunfermline Foodbank  project manager Jonathan Astill said: "It is a real honour for the foodbank to have been shortlisted for Community Connect funding.
"We're thankful to the Scotmid panel for giving us the opportunity and it is fantastic to get recognised.
"We're looking forward to being part of Community Connect and engaging with members and customers – there are quite a few Scotmid stores in the area we cover.
"The aim is to use the Community Connect funding for three areas – help to recruit more volunteers so we can provide a bigger and better service, bring in an administrator and also to cover warehouse costs."
People are encouraged to support the foodbank's campaign and can find out more at www.scotmid.coop.