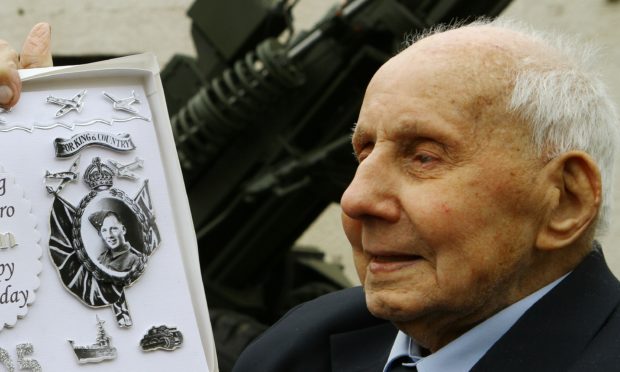 Fife war hero Jimmy Sinclair has been interviewed by an American historian documenting the stories of as many veterans as he can.
The oldest surviving Desert Rat was visited by Rishi Sharma as he travels the UK preserving the experiences of old soldiers.
Rishi, 20, has pledged to continue interviewing Second World War veterans who he describes as real-life superheroes until the last one passes away.
He has already captured on film the accounts of over 900 veterans across the US and Canada and has travelled from California to meet Scots who fought for their country.
Jimmy, who recently celebrated his 106th birthday, was awarded medals for his role in the siege of Tobruk, the battle of El Alamein and assaults on Monte Cassino, in Italy.
He later served for two years with the Allied Control Commission in Berlin before returning to Scotland to work as a slater.
Despite being part of the effort to defeat Field Marshall Erwin Rommel's troops in the Egyptian desert in 1942, Jimmy went on to strike up an unlikely friendship with the Rommel family and regularly keeps in touch with them.
Rishi's project, Heroes of the Second World War, seeks to preserve oral histories for future generations.
On his website, Rishi says: "These men are my biggest heroes and my kindred spirits, as they are the only people who I truly enjoy talking to and learning from for hours on end.
"I want them to know how grateful I am for the sacrifices they have made, which has allowed me a chance at a good life.
"I have decided to dedicate my life to interviewing these veterans and bring awareness to their sacrifices.
"The interviews are filmed but there is absolutely no commercial aspect to this as I just provide a DVD for the veteran's use."
Rishi has also interviewed veterans in Aberdeen.