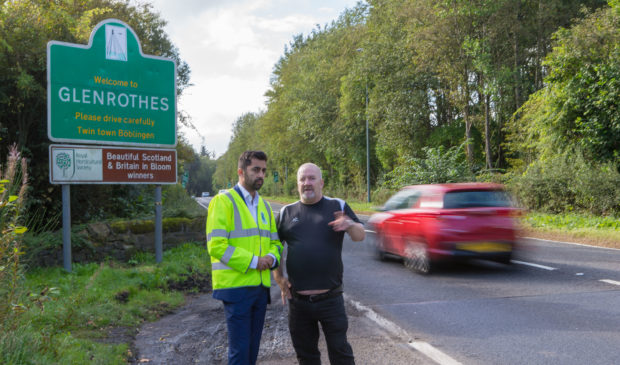 An "idiot" driver has been caught travelling at more than twice the speed limit at the spot where a nine-year-old boy was killed.
Speed cameras recorded the powerful sports car doing 88mph at a notorious accident blackspot on the A92 at Balfarg in Glenrothes, where the limit is just 40mph.
It was detected close to the spot where Logan Carrie died after being struck by a car in 2015, prompting a high-profile safety campaign by his devastated family.
This resulted in the speed limit being cut from 50mph in 2016 and the announcement earlier this year that a pedestrian crossing will be installed near the site of Logan's tragic death.
The youngster's shocked grandfather Rab Brown branded the speed as "sheer stupidity" and called for the driver to receive an instant ban.
"They've shown no respect for anybody else, never mind themselves," he said.
"It's absolutely ridiculous. There are signs clearly showing the speed limit and they are there for a reason.
"This is out of order and as far as I'm concerned, anybody doing that kind of speed on that road should be banned instantly."
Andy Jones, manager of the East Safety Camera Unit, described the motorist's driving as "totally unacceptable and reckless conduct".
"This motorist has shown a complete disregard for their own and others' safety," he said.
"I am especially frustrated given the history of this road and am left baffled how anybody could drive at 88mph here and not expect repercussions.
"In this case, the driver will be hearing from us very soon and will be reported to the procurator fiscal."
Fife Road Policing Inspector Andy Mather said: "There is no excuse for driving at 88mph in a 40mph limit.
"Drivers have a responsibility to ensure they are complying with the speed limit at all times.
"There is sufficient signage on this road to clearly indicate a 40mph limit applies.
Police Scotland continually operates a robust policy in respect of drivers who choose to exceed the speed limit."
Local Labour councillor Jan Wincott said she was stunned to hear of the driver's speed.
"There needs to be something more proactive to make sure drivers obey the speed limit but you always get the idiot who has no regard for anybody's safety," she said.
"I'm shocked by this and I hope they throw the book at them."
Friday's incident is the latest in a catalogue of accidents and speeding on the A92 at Glenrothes over the last decade.
Ron Page, of North Glenrothes Area Futures Group, said: "We have been campaigning for 10 years and there is no let up.
"I still get reports galore, especially at the Balfarg and Cadham junctions.
"I would guess this crazy driver is not local and is not aware, despite the road signs."