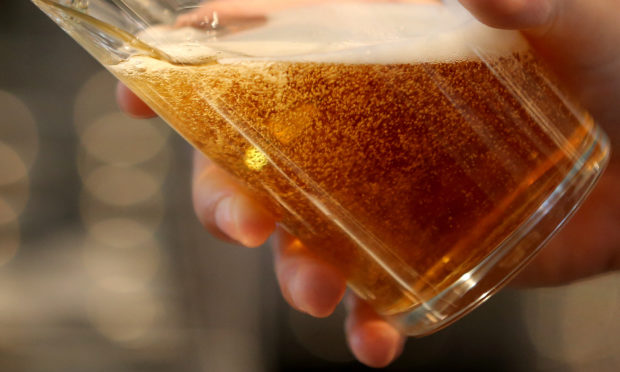 Being a huge football fan, and a fan of a pint or two, it's heartening to see suggestions that alcohol could finally be making a return to grounds during matches.
Born in 1981, the year after the riot at a Scottish Cup final between Celtic and Rangers which prompted the ban, I still find it astounding that football fans are treated differently from rugby supporters at Murrayfield, where drinking is very much part of the experience.
Yes, some – maybe all – football clubs attract a particular kind of idiot. You only need to look at the footage of a young thug launching a full bottle of beer before last week's Betfred Cup semi-final and hitting a 70-year-old Hearts supporter in the face for proof.
But the world has moved on since 1980 and the alcohol ban isn't stopping people drinking before and after games — it's just pushing them out to pubs and restaurants in the vicinity of grounds.
Moving kick-off times for higher risk games, such as Old Firm clashes, has also only served to alter people's drinking habits. I've seen people gather at clubs or pals' houses at 8am for a swally ahead of a lunchtime kick-off. Whatever you think of the rights or wrongs, it happens.
Scotland's attitude to alcohol in general remains problematic but I'd bet a fair proportion of supporters would back a measured and limited reintroduction of alcohol to enhance the matchday experience.
You can already have a drink if you pay for the privilege in corporate hospitality after all. And no one's suggesting opening up a free bar with Jaegerbombs on tap.
Maybe some sort of token scheme along with the price of entry could help to regulate consumption? A ban on spirits perhaps?
There's no one size fits all solution. What is deemed appropriate for tens of thousands of fans at Hampden might not work for a few hundred at an East Fife game but whatever the answer, it's important that clubs and fans have their say on the issue.
Having sat in a pub among Cowdenbeath FC supporters last year discussing the very real prospect of their club going under, I'm under no illusions about the struggles some are facing, or the impact their demise would have on the communities that have followed them with pride.
Anything that can bring in additional revenue while enhancing the experience for supporters can only be welcomed and surely it's about time Scottish football fans were treated like adults again.
Most of us are well-behaved men and women and it's not fair that we're tarred with the same brush as a mindless minority.