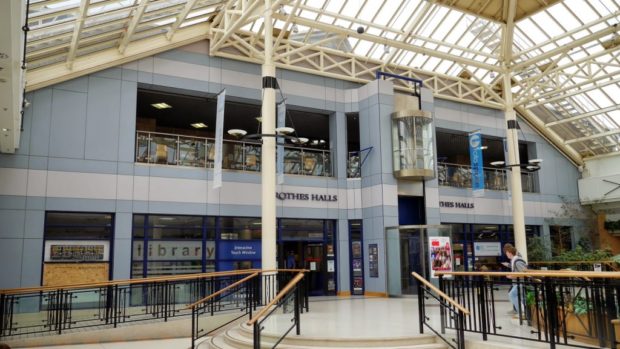 A silent disco and festival of family fun was held at the weekend to celebrate 25 years of the Rothes Halls.
Saturday saw a full day of events take place at the Glenrothes community space as staff and visitors recapped a quarter of a century of concerts, stand-up comedy and family entertainment.
The list of those who have graced the Rothes Halls stage ranges from pop icons like The Kinks, Belinda Carlisle, Slade and Leo Sayer  through indie stars such as Stereophonics, Ian Brown, Bluetones, Super Furry Animals, and Ocean Colour Scene.
Scotland's own Biffy Clyro, Midge Ure, Proclaimers, Runrig, Delgados, Lulu, The View and Sergeant – who hailed from Glenrothes – have also appeared.
Party events with cross-generational appeal took place in the afternoon before the more hardy revellers toasted the venue's birthday during a silent disco into the night.
One of the Rothes Halls' regulars over the years were children's favourites The Singing Kettle and Gary Coupland, now with the Funbox crew, was one of several famous faces wishing the Halls a happy birthday.
"When it came to performing live shows the best audiences tended to be in Edinburgh and Glasgow so it was a revelation when we played the Rothes Halls," he said.
"Fife audiences are so enthusiastic and the fact that it is a concert hall as well as theatre gives it a great atmosphere.
"What was really touching though was the brilliant support we got from Fife for our crowd-funding campaign.
"We ran it to help launch Funbox after Singing Kettle stopped."
Cian Ciaran, from Welsh indie rock legends Super Furry Animals, also spoke fondly of the Rothes Halls.
He added: "That a music venue can get to a quarter century these days is something of a feat, given the circling of property prospectors, the spiralling costs involved in making any kind of fun and complaints from the neighbours.
"Congratulations, Rothes Halls, and thank you for the memories."
ONFife archives, theatre services and the Rothes Halls Library were joint party planners for the day, with book bug, soft play and Jolly Jigglers for the kids, as well as an afternoon tea and an archive photo exhibition laid on in the foyer, featuring seldom seen images of the venue – from its inception to today – taken during the last 25 years.