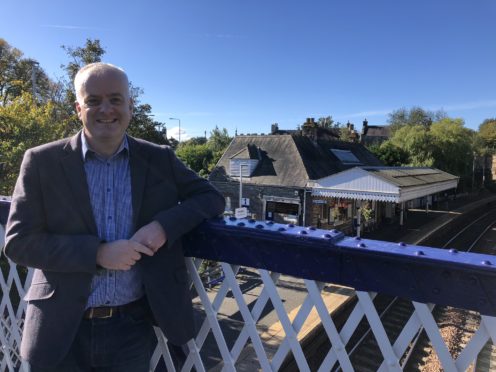 A Fife MSP has expressed fears it could take "a generation" before all rail stations on the Fife Circle are fully accessible.
Green party Mid Scotland and Fife MSP Mark Ruskell has urged the Scottish Government to provide additional funding to bring the well-used route up to date and make it accessible to wheelchair users, prams and people with limited mobility.
There are currently 106 railway stations in Scotland that have at least one platform which is not wheelchair accessible, including Burntisland, Cowdenbeath, Kinghorn and Lochgelly on the Fife Circle.
But the UK Government's Access for All fund has only provided enough money to refurbish one to two stations per year in Scotland in recent years.
Mr Ruskell said: "I understand the deep frustration for local communities like Burntisland and Cowdenbeath who have ageing, inaccessible stations, and the level of funding provided by the UK government for this work simply does not scratch the surface.
"We mustn't be left behind however because of a lack of commitment from Westminster – there's nothing to stop the Scottish Government setting the ambition of having a modern, fully accessible rail network and providing additional funding.
"We accept that schools, workplaces and public buildings must be wheelchair accessible, so why not railway stations too?"
Mr Ruskell has pressed the Scottish Government on the issue and Paul Wheelhouse, the minister for energy and connectivity, said he will – along with cabinet secretary Michael Matheson – try to find additional sources of funding for this work.
Mr Wheelhouse said: "We all want to see proper access until 12:45 for all users of our rail network and ensure that any barriers to use of our trains are addressed.
"I make a commitment that, once I have had a discussion with the cabinet secretary, we will write to Mr Ruskell with the details of potential funding options that he has asked for, to make sure that we are identifying all the potential funding opportunities that could address local difficulties.
"I hope that that will be helpful."
The issue has also been raised by local Conservative MSPs Liz Smith and Murdo Fraser, who have highlighted the case of Burntisland in particular where wheelchair users cannot access the northbound platform and disabled passengers have to stay on the train until the next station, where they can cross platform, before taking another train back to Burntisland.
Ms Smith said: "Being able to access public transport is incredibly important, especially for disabled passengers who have fewer options.
"Too many stations in Fife don't have adequate access and this funding can go a long way to improving this picture."
Mr Fraser added: "The fact that so many stations across Fife are not equipped to handle disabled passengers is disappointing and this must change.
"If we are to encourage more people to use public transport then facilities must serve all passengers."