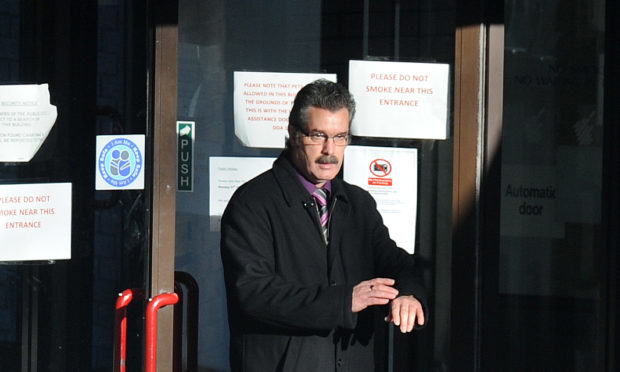 A Fife bus driver who mowed down two teenagers in a car park, leaving one with "life-changing injuries" has been given a three year driving ban.
John Morrison appeared for sentencing at Dunfermline Sheriff Court after being found guilty after trial of  the February 2017 crime.
The 60-year-old left one boy with broken bones in his arm and leg and needing skin grafts after he was knocked down and pinned under the wheels of the Bay Travel coach.
A second boy was left with minor injuries following the collision in the car park of the Abbeyview Community Centre in Dunfermline.
Sheriff Charles Macnair QC blasted the Glenrothes man after he appeared to blame his victims during a background report interview.
He said: "It is concerning that he is blaming the children and whilst he says that he has remorse, its very worrying that he claims to have no idea what the injuries were. "He knew perfectly well the seriousness of the injuries."
He said directly to Morrison: "You were driving a bus that afternoon and you knew that there were children in the car park.
"Although you were driving towards them, you gave no signal by sounding your horn.
"You drove towards the children and whilst many got out of the way, the two complainers did not but they were there to be seen.
"You were not distracted according to your evidence and they were not misbehaving. I accept that they probably should have been looking where they were going but they were playing on their phones.
"But they were there to be seen and you drove on and ran them over. How that came to happen is really inexplicable and can be put down to you not keeping a proper look out.
"When someone is driving a dangerous machine like a bus, they have to keep a proper look out especially when they knew there are children and other people in a car park.
"The injuries that you caused were horrific. The young man has been left with life changing injuries.
"He was very stoic about those injuries but it was clear from his mother's evidence that they have had a very significant impact on him both physically and mentally.
"Having regard for the level of injury, it seems remarkable that you were prosecuted on a summary complaint but it was and you were remarkably lucky."
Defence advocate Dana Forbes said that her client was a man who wasn't able to express himself very well but did have remorse for his actions.
She added: "He wishes he could turn back time but obviously he can't do that."
Sheriff Macnair ordered Morrison to carry out 250 hours of unpaid work within nine months. He was also banned from driving for three years.
The former bus driver, who now works as a cleaner, was also placed on a restriction of liberty order at his home on Marmion Drive between the hours of 7pm and 7am for four months.