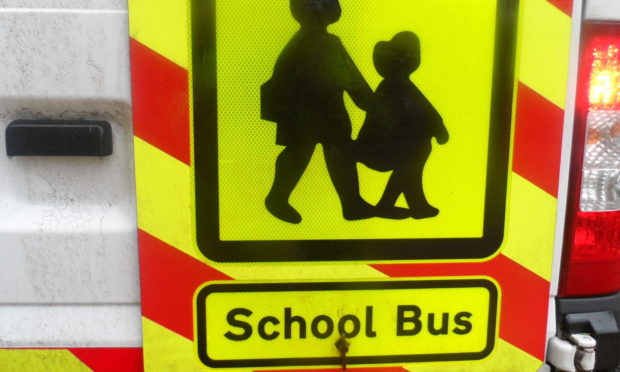 Parents fear children will be put at risk as hundreds face losing their school bus passes.
More than 800 youngsters across Fife may no longer be entitled to free travel to school with the implementation of a new policy for assessing suitable walking routes.
Some 565 of those affected are from Glenrothes, more than half of them Auchmuty High School pupils.
The new policy being consulted upon could see 23 walking routes previously deemed unsuitable reclassified as suitable.
Pupils who live within a mile of their primary school or two miles of their secondary school who can use these routes would no longer be entitled to free transport.
Parents in some parts of Glenrothes are furious at the proposal for their children, and say it would take them through woods and poorly-lit and isolated paths on a route that would take 45 minutes to an hour to walk.
They have also warned more pupils will be driven to school, adding to congestion at gates and the potential for accidents.
Auchmuty High parent Niki Mcdonald said: "My daughter would need to leave at 7.30am and walk through two wooded areas.
"In the winter months at 7.30am it's still dark, likewise finishing school at 3.30pm it's beginning to get dark.
"She's 12 years old and I don't allow her to walk that way at the best of times."
Assessment of the routes assumes pupils walking to school will be accompanied by an adult and acting responsibly.
In some cases, the council said infrastructure had been improved and in others routes were already being used by pupils from other schools.
Shelagh McLean, head of  education and children's services, said: "Our consultation on walked routes to schools has just started and runs until December 14.
"We're keen to get feedback to help us shape the policy so that we can take a consistent and fair approach across all of our schools when considering the transport that we are required to provide.
"The concerns being raised around Auchmuty are good examples of the inconsistencies that we're trying to remove.
"At some point in the past, pupils living in the Stenton, Finglassie and Lochtyview Way area were granted transport because of the footbridge crossing over the B921.
"However, this has been a recognised route walked by Pitteuchar East Primary School pupils for some time and assessment of the route using the proposed policy indicates that this route is an available walking route."
Other schools where pupils are affected are Glenrothes, Glenwood, Dunfermline, Kirkcaldy and Lochgelly high schools, Levenmouth Academy and Carleton, Carnock, Torryburn, McLean, Newport, St Leonards and Dysart primary schools.
Details of the schools and routes are available on Fife Council's website.
Meetings will be held at Levenmouth Academy on Tuesday, Auchmuty High School on Thursday, Lochgelly High School on November 29 and Dunfermline High School on December 4, all from 5.30pm to 6.30pm.