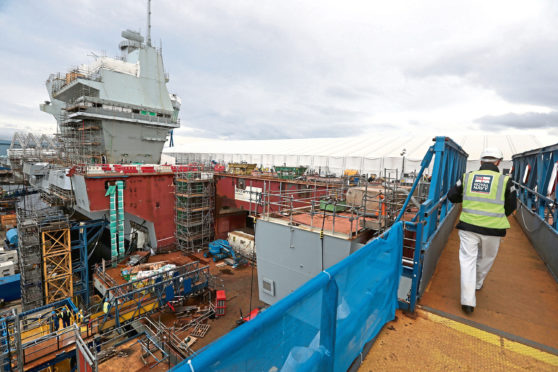 While one could be forgiven for being caught up in the Brexit omnishambles, the hard working man on the street can be forgotten.
My focus has been on the hard grafters at Rosyth.
Last week, members of the media were given a chance to have a look at the second Queen Elizabeth Class aircraft carrier to be assembled at Rosyth, HMS Prince of Wales.
While there were murmurings about the £6.2 billion project potentially being over budget when all is said and done, the fact that it is currently on track for completion on time and in the final stages of construction is an incredible feat that needs to be celebrated.
Six shipyards from across the UK have been involved in building the 65,000-tonne warship, but Rosyth has been pivotal to the whole programme and it will be a significant moment for Fife when the massive aircraft carrier leaves dock for sea trials this time next year.
It must not be the end of an era. The skilled workforce at Rosyth deserve better than that.
Hundreds working directly on HMS Prince of Wales and further down the supply chain are currently going about their business in the knowledge the contract is near its end and the Aircraft Carrier Alliance (ACA) will be, effectively, wound up.
The expertise gained at Rosyth will undoubtedly serve workers well but they need assurances more contracts are forthcoming.
Work is in the pipeline, with Rosyth winning a 10-year contract to build specialist equipment for the treatment of nuclear waste at Sellafield earlier this year.
There has also been talk the scheduled refit of ocean survey vessel HMS Scott is to be done at Rosyth.
But we have seen how volatile the market is, with the UK Government deciding to restart competition for work on the Type 31e frigate programme as Rosyth looked like it was in pole position.
It was interesting to hear during mytour of HMS Prince of Wales the ship can keep an eye on objects as small as a snooker ball 20 miles away travelling at 2,300mph. Clearly it can spot incoming threats.
Here's hoping the UK Government is just as sharp in recognising Rosyth needs some certainty as it navigates troubled waters.
Rhetoric does not put food on the table and Rosyth's proven track record in delivering large-scale, complex projects should put it at the head of the queue when it comes to future MoD contracts.