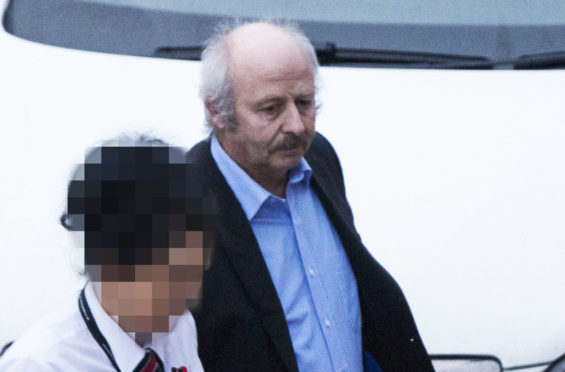 A father whose children were sexually abused by a Fife paedophile say the family have lost faith in the justice system after his jail sentence was slashed.
The man, who cannot be named for legal reasons, was disgusted to hear David Glass had successfully appealed against a five-year jail term imposed in January.
The former landlord was found guilty of sexual abuse against children carried out in the 80s and 90s in the East Neuk of Fife.
It was is second conviction, having been previously convicted in 2014 at Dunfermline Sheriff Court of sexually abusing four more children over an eight-year period between 2004 and 2012.
He was given a three and half year sentence but was released in early 2016.
Lawyers for the 60-year-old have successfully argued his most recent sentence was "excessive" due to the "cumulative impact" of his previous prison term, with the Court of Appeal reducing it to three years.
The father, whose children were victims in the 2014 conviction, told of the family's living nightmare after reporting the sex offender to the police and how they feel let down by the justice system.
Fife predator who groomed and sexually abused children has 'excessive' jail term slashed
He said: "When we first found out about the abuse, my wife was pregnant at the time. On that very day, our baby died inside her.
"She was too far along in the pregnancy so she had to give birth. I took the boys to the police station and I took my wife to the hospital.
"When we came back to Anstruther, he (Glass) was quite merrily 400 yards from where we lived. He was the first person we ran into when we got home that day.
"We looked at him like a friend. He would quite regularly come round with a box of ice creams for the children.
"We were living in one of his properties when I went to the police and the first thing he did was try to evict us.
"He stopped accepting the rent and he got an eviction, making us homeless. Then, while we were waiting for the trial, he used to come and sit around the corner from our house.
"The only way for the kids to get in at night was to go past him. He was trying to intimidate us. He told people in the area that we were lying and making it up.
"My children, my wife and myself were all threatened by various people in the lead up to the trial. Then I had to sit outside that courtroom and listen to my children crying as they gave evidence.
"He was found guilty and was jailed, which gave us a bit of peace. But then he got released and was allowed to come back to the house where he had committed the offences, which is less than a mile from where we live."
He added: "I can't understand how that judge has allowed his sentence to be reduced by two years.
"He only served 19 months for what he did to our family, out of a four and half year sentence. We feel let down by the justice system."
The family now fear Glass will return to the area after his release and hope to move away.
A spokesperson for the Judicial Office for Scotland said: "The reasons for the court's decision are explained in the judgement. It would not be appropriate to provide further comment on individual cases."