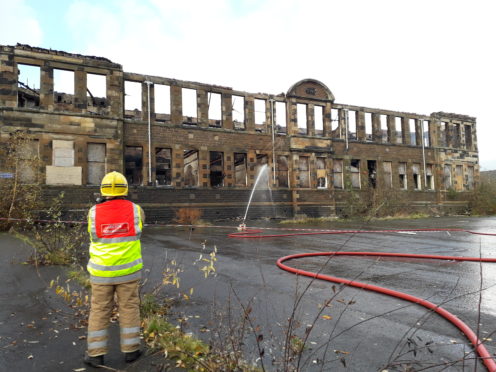 The old Inverkeiting Primary School building is to be partially dismantled after it was gutted in a deliberate fire.
As police confirmed yesterday that the major blaze which engulfed the century old, C-listed building on Monday was being treated as suspicious, Fife Council said upper parts of the building would have to be taken down for safety reasons.
Walls on the first floor were said to pose "a significant risk of collapse if subject to high winds".
The Courier understands it is unlikely the building will be restored, after a source revealed a structural engineer had deemed it beyond saving.
The source told The Courier: "I'm sure it will be demolished. A structural engineer who was out said, 'listen, it's a goner'."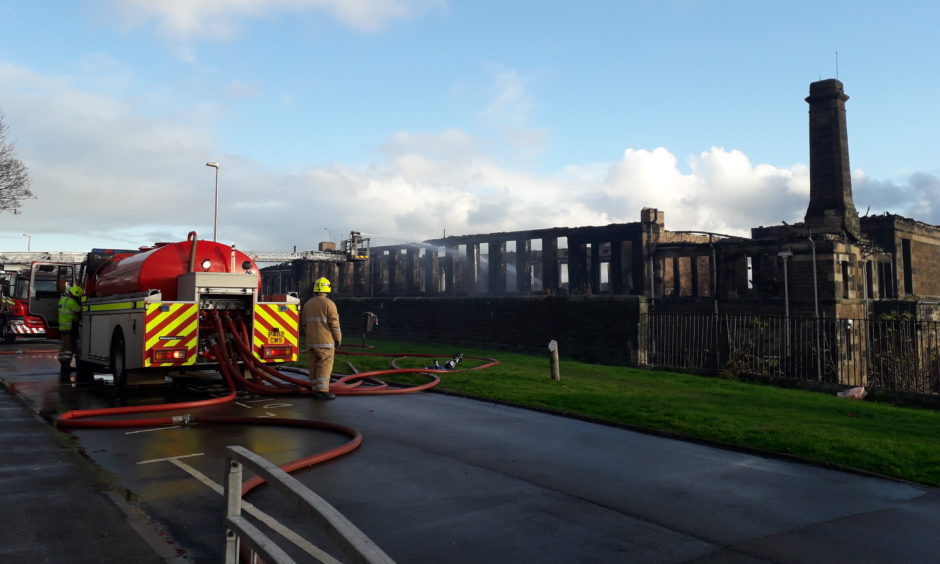 Fire raged through the two-storey building in Roods Road on Monday night.
There were no casualties but one woman was taken to hospital with breathing difficulties. She was allowed home the following morning.
Police have made an appeal for anyone who witnessed any suspicious activity prior to the fire to get in touch on 101 or to call Crimestoppers on 0800 555 111.
---
---
Detective Inspector Kelly McEwan of Dunfermline CID said: "Through our enquiries we have now established that the fire appears to have been started deliberately.
"This was a large fire which resulted in significant fire service and police resources being deployed and had the potential to cause catastrophic damage to property and life.
"I would urge anyone who saw any suspicious behaviour in the area immediately prior to the incident, or after the fire was alight, to contact us as soon as possible.
"Equally anyone with information to help us trace those involved is asked to come forward immediately."
The decision to demolish the upper walls followed a meeting between council officers and an independent structural engineer.
A council memo said: "The building standards and public safety team are liaising with the owner and his contractor to arrange for the removal of the upper section of these walls, from the upper window sill height upwards, using dangerous buildings emergency powers under the Building (Scotland) Act 2003.
"The necessary work will also include the removal of loose debris on the top of the remaining walls.
"As anticipated his opinion is aligned with council concerns and that of the owners' own engineer, being that the significant lengths of unrestrained walling at first floor level on the front and rear elevation pose a significant risk of collapse if subject to high winds.
"This work is seen as the minimum required to deal with the immediate danger."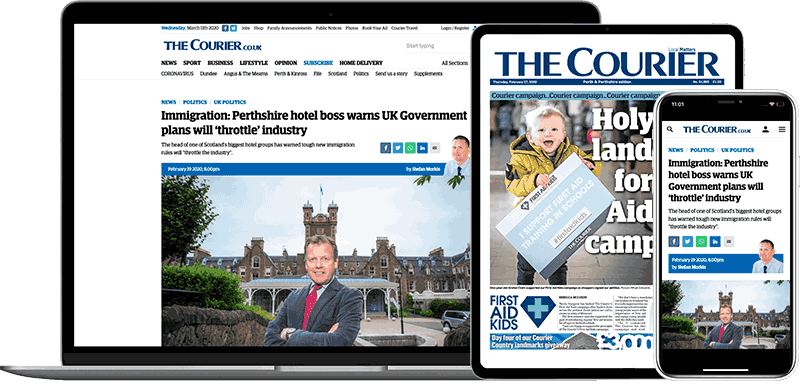 Help support quality local journalism … become a digital subscriber to The Courier
For as little as £5.99 a month you can access all of our content, including Premium articles.
Subscribe