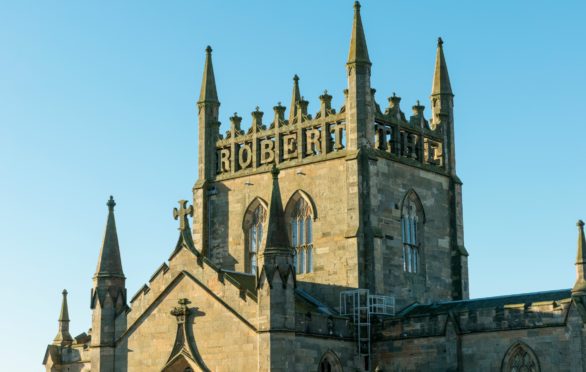 The resting place of Robert the Bruce, which plays a starring role in the blockbuster Outlaw King, will be in the spotlight for a unique showing of the historical epic.
Dunfermline Abbey, which doubles as Westminster in the Netflix film, will host director David Mackenzie and producer Gillian Berrie on December 5.
Visitors will enjoy a tour of the venue and the Abbey Church before a screening of Outlaw King in Dunfermline Carnegie Library and Galleries, followed by a question and answer session with the pair.
The event is being organised by Filming Fife and VisitScotland, in association with Sigma Films and Fife Cultural Trust.
VisitScotland has also launched an interactive map of Scotland featuring the locations in Outlaw King and historic sites connected to Robert the Bruce.
The film was released on Netflix, which has 130 million paid memberships in more than 190 countries, earlier this month.
It charts the story of the Bruce, played by Chris Pine, from defeated nobleman in 1304 to victorious King of Scots at the Battle of Loudoun Hill in 1307.
Film and creative industries manager at VisitScotland Jenni Steele said: "The dramatic landscapes of Scotland are as much of a character in Outlaw King as the King of Scots himself and are sure to entice Netflix viewers off the couch and into the country."
Mr Mackenzie said: "When location scouting for Outlaw King I felt we had to use Dunfermline Abbey, not only due to its stunning architecture but, it being the resting place of Robert the Bruce, it was fitting to have the Abbey play a part in a film which examines the important legacy of the man himself."
David Williams, joint session clerk of the Abbey Church, said: "At the home of Bruce's tomb, we are excited to be involved in this event which will celebrate the life of Robert the Bruce and the important role our building and city has played in Scottish history."
Tickets are available here.