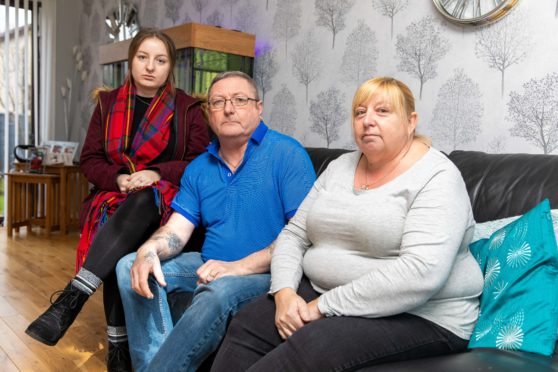 Families in Fife face the worry of eviction over Christmas as their landlord is threatened with being blacklisted.
Property magnate David Love could be struck from the landlord register by Edinburgh City Council after he evicted a mother-of-nine, dumping her family's possessions outside while no one was home.
The amateur boxer has served eviction notices to his tenants, including 10 in the kingdom as he fears deregistering in Edinburgh would be reflected in Fife.
Disabled Brian Anderson, of Glenrothes, and his family are among those devastated at the prospect of losing their homes and has written to Edinburgh council pleading for Mr Love to be allowed to continue.
He fears he will lose the gardening services business he runs from the garage of his detached home and wife Shona and daughter Shannon, 20, will have to give up their job and studies if they have to move elsewhere.
He said: "We only have eight weeks to find another house and the chances of that happening are minute.
---
---
"We will never get a property like this for the price we pay. It's not going to be a nice Christmas and New Year for us."
Mr Love, 37, formerly of Kirkcaldy but now living in Edinburgh where he runs a boxing club, has a seven-figure property portfolio including houses and flats in Kirkcaldy, Burntisland and Methilhill.
He served eviction notices last week as he is required to give two months' notice.
He said: "The council doesn't ask me to evict the tenants but they make it illegal for me to collect rent money so they are effectively evicting the tenants.
"My tenants are pretty upset, some of them have kids in schools in the areas where they live, they have friends and family. Most of my tenants are on low incomes and benefits.
"Let's say, worst case scenario, I deserved to lose my licence, do these 17 people deserve to be put out of their homes?"
Mr Love, who runs David Love Property, hit the headlines for his eviction of Donna Newby in Edinburgh in March.
He dumped her possessions, including children's toys, televisions and beds, in a garden in front of the block of flats.
A licensing sub-committee in Edinburgh is to consider a report from the Chief Constable before deciding in January whether to revoke his registration under antisocial behaviour legislation.
Finlay Ross, Fife Council lead officer for private sector regulation, said: "There is no automatic removal of a landlord's registration if another local authority refuses to register or de-registers them.
"We treat all cases on an individual basis and work closely with Police Scotland and colleagues within Fife Council if a landlord's 'fit and proper' status is called into question."