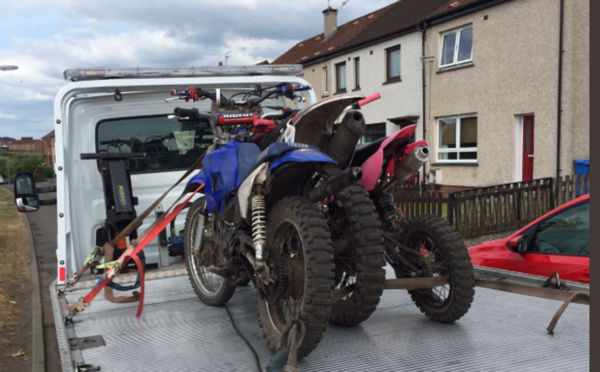 Prisons are designed to be good places for punishing criminals and keeping them off the street.
But research suggests prison sentences, particularly longer stretches, are unlikely to deter future crime.
So it was heartening to hear talk of a new approach to tackling one aspect of crime in the kingdom, namely the rise of people roaring around streets and parks on motorbikes, mini motos and quad bikes.
Councillors in Levenmouth have been discussing the possibility of evicting council tenants whose homes are being used to store bikes ridden by unlicensed and uninsured miscreants.
It is that sort of tough tactic that should be used more by authorities in Fife until people actually get the message.
Dangerous parking at schools, dog fouling, littering, fly-tipping, even public urination — the threat of a fine is all well and good but it just does not seem to act as an effective enough deterrent, particularly when those who flout the law know it is extremely difficult to get caught in the act.
Throwing resources at problems simply is not a sensible option in the age of austerity so we need to get smarter in terms of deterrents and punishments.
Levenmouth police inspector Tom Brown hit the nail on the head when he called for a change in the law to help tackle nuisance bikers, pointing out riders caught on land that is not a public road can only receive three penalty points.
That means police have to catch them four times before they are banned.
That is not a deterrent by any stretch of the imagination and I would go as far as to say it could work the other way, with bikers seeing a blemish on their record as some sort of badge of honour.
Stronger sanctions must be attempted until one is found which both fits the crime and stops it in its tracks.
One must commend Levenmouth councillors for thinking outside the box on this one – and it will be interesting to see how it works in practice.