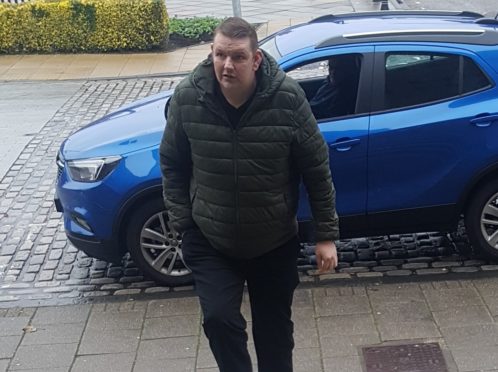 A Fife man was left with a Converse shoe print on his face and "gargling blood" following a drunken fight with his own brother.
Michael Foy appeared at Kirkcaldy Sheriff Court where he entered a guilty plea to a reduced charge of assault to injury on sibling Owen.
The 36-year-old was initially charged with assault to severe injury after leaving his brother lying stricken on the pavement in Burntisland following the September 2017 incident.
Fiscal depute Jade Doig explained the fight had been witnessed by two members of the public who heard shouts of "come on then" before approaching the feuding duo.
She said: "They approached the accused and his brother and it seems that the accused saw them making their way over. He began backing away and started walking up the hill.
"They noticed that the complainer was on the ground and had blood coming from his mouth and a mark on his face.
"The complainer started saying 'my face is sore, someone has kicked me in the face'. It was noted that he was gargling because of the blood in his mouth."
The victim was taken to hospital where he spent several weeks being treated for his injuries. He also suffered a broken ankle but it could not be established exactly how that injury had been caused.
Defence solicitor Kerr Sneddon said his client's position was that a "blootered" Owen had been making comments about the accused's wife before hitting him first.
He said: "My client's position is that that his brother had started to say rather worrying things about my client's wife, which turned out to be true.
"But Mr Foy did not want to accept them at the time. The person who said 'Come on then big man' was the brother Owen.
"My client says that his brother punched him first and he reacted. He punched him and Owen fell to the ground.
"He accepts that that may have been self defence but that he should have stopped there. He accepts kicking him on the body and the face once which is a bad assault."
He added: "My client is thoroughly ashamed of his behaviour."
Sheriff Pino Di Emidio said: "Kicking to the head is to be treated as a serious matter and my preliminary view is that I wish to have a report.
"Whilst the footwear was not the sort to be considered a weapon, it is still a matter which causes the court to pause."
He called for a background report to prepared and will sentence Foy on January 9.