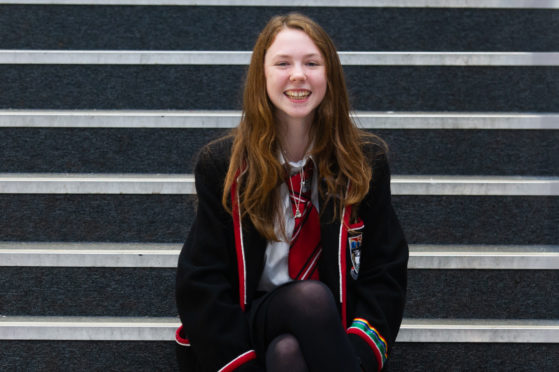 Waid Academy pupil Neve Peacock has nothing but cherished memories of her beloved mum.
The 17-year-old's family was shattered just before Christmas last year when cancer ripped Gillian from Neve, her dad and her two younger brothers.
Neve has said "not a day goes by" that she doesn't think of her.
And now the president of Waid's charities committee hopes she's honoured her mum by helping raise funds for the charity which did – and continues to do – so much for the Fife  family.
Bravely, Neve shared her story with her school community as the committee drummed up funds for Macmillan Cancer Support.
From the very start the group decided it did not only want to raise money but also awareness for the charity and of cancer itself.
"I knew I wanted to honour my mum and share my own experience of cancer so our peers were able to have a real life example.
"Through this we could show that although cancer is scary and yes it is painful but there is a way to push through to the other side," she said.
Neve penned a letter to her late mum, who died two years ago of later metastatic cancer which had developed from the breast cancer she had almost seven years earlier when Neve was still at primary.
"It took you away, leaving your whole family behind. My family.
"I knew this would be hard, but I didn't realise the exhaustion I'd feel after losing you.
"I didn't realise how much would change when you were no longer, and nothing prepared me for the pain that losing you would cause," she wrote.
Neve, who admits she's a little bit jealous of her friends who still have their mums, added that she remembered "just about every detail and I think I always will" of the day her mum passed away.
"This was the hardest time of my life and it continues to hurt.
But she vowed, cancer might have taken her mum, but it would not stop her telling her mum's story.
At Waid, various fundraisers were organised, and Neve said none could have been achieved without the "amazing support" of staff.
"To be able to raise and give this money to Macmillan is amazing.
"Coming up to December is a very hard time for myself and my family but to be able to honour my mum in this way and give back to those who supported me through my own struggle is the greatest opportunity I have been given."
MacMillan still helping Neve
The Macmillan team were with the Peacock family every step of the way, with practical and emotional support.
As well as care for her ailing mum, there was help for the entire family throughout the long journey.
That support continues to this day.
Neve said: "I know just now I can email them or phone.
"The help never stops, they are always there for us. It's not just to talk about what happened, it could be to talk about anything."
Neve, who is thinking about studying social anthropology at university, bravely shared her story at school assembly.
"I wanted to show it's not just something you see on TV. It's real life stories and pain around."
When she became president of the charities committee, she knew she wanted to give something back to the charity which had given so much to her.
"And to honour my mum," she added.
Now, only a few months later, the pupils are handing over around £1,300 to Macmillan.
"Thanks to this money we will be able to fund a Macmillan Nurse and help another family going through the same struggle that I did," said the sixth year pupil.