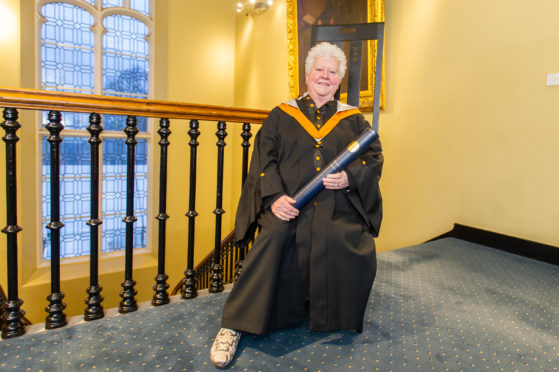 Best selling crime writer Val McDermid admitted being "very moved and very touched" as she had an honorary degree conferred upon her at St Andrews University
McDermid has sold more than 15 million books which have been translated into 40 languages and has even been awarded the coveted Crime Writers' Association Diamond Dagger for outstanding achievement.
However, she is also the author of award-winning standalone novels, non-fiction, short stories, radio and stage plays, a book for children, and a conceptual installation among many highlights in an incredible career to date.
Wishing graduates well on their future endeavours, McDermid said she approached every project with the same sense of preparing for an "awfully big adventure" that she did when she started university in Oxford – and urged students to do the same.
"I should not be here," she said.
"I say that not out of any false modesty or impostor syndrome, but I say it because when I was growing up people like us didn't aspire to the life I have had.
"These are particularly worrying and difficult times, but I have every confidence in your ability to go forward in these times.
"It's the excitement, the passion that keeps you going. Excitement and enthusiasm and that sense of standing on the edge of something that will define the next bit of the rest of your life."
The 63-year-old was also recognised for her lifetime commitment to a "civil, equal and just society", having been a tireless advocate of women's and LGBTQ+ rights – using her visibility as one of Britain's most popular and influential writers to speak out for equality.
In her laureation by Professor Gill Plain, McDermid was described as having "held a mirror up to society and unflinchingly revealed its prejudices and flaws" before receiving her Doctor of Letters honorary degree.
"It would be fair, I think, to categorise Val as an over-achiever – and she has been all her life," she said.
"Born in Kirkcaldy to a working class family, she benefited from a quality state school education, inspirational teaching – especially from her English teacher, Wilf Allsop – and the opportunities enabled by a grant funded university system.
"Indeed, she became the first Scottish state school pupil to win a place at St Hilda's College Oxford.
"She felt, back then, that she had to leave the parochial confines of 1960s Fife – not least because it was a place, and I quote, "where there simply were no lesbians, it wasn't even a word that crossed people's horizons".
"Much has changed since then, and Val's has been one of the voices helping to change it."
Prof Plain also spoke about McDermid's love of music, computer gaming, her partner Jo, her son Calum, and, of course, her beloved Raith Rovers.
"Val has been a director of the club and is currently their shirt sponors, and this investment comes in part from her lifetime support, but it is also a tribute to her father, a man who encouraged her, supported her and told her to call no man her master," she added.
"Words she undoubtedly took to heart."
More than 1,000 students from across the world have gathered at the University of St Andrews this week for winter graduations, with graduates from 80 different countries receiving their academic awards.
Former Open champion Paul Lawrie and Old Course Hotel owner Herb Kohler received honorary degrees on Thursday.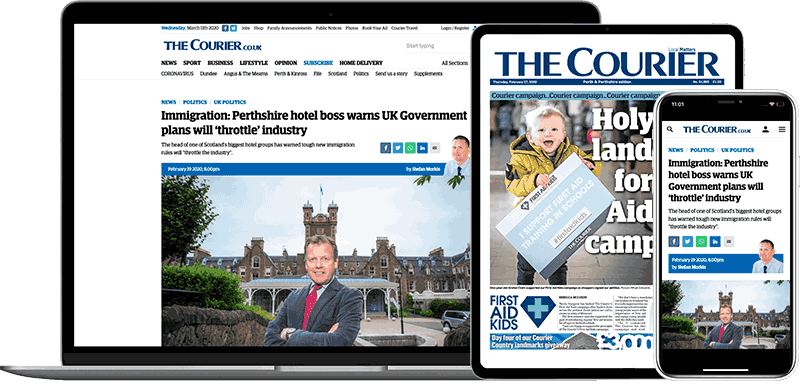 Help support quality local journalism … become a digital subscriber to The Courier
For as little as £5.99 a month you can access all of our content, including Premium articles.
Subscribe