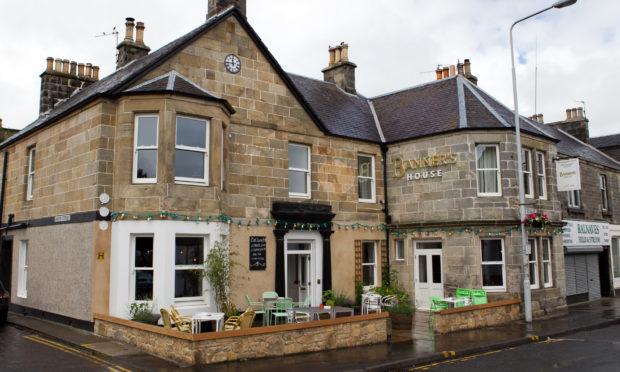 Staff at a Fife hotel say they have not been paid a month's wages just before Christmas.
Kitchen and front of house staff at Banner's House in Markinch have walked out after not being paid last month, with one worker claiming she is around £1,000 out of pocket.
The hotel and restaurant in the town's High Street is still open for business.
However, there are claims that suppliers as well as staff have not been paid.
Banner's House, which recently changed ownership, admitted it was currently resolving "one or two issues" and said there were efforts to "streamline" the business because of difficult trading conditions.
Chef Linda Hutchison, 37, said she was supposed to be paid at the end of November but was still waiting to be remunerated for 160 hours of work.
The mother of two said: "There are other people who have not been paid.
"My husband works so I'm not in the worst situation. But there are people wondering if they are going to have roofs over their heads and going to be able to support their families. It's just terrible."
She said she had been told that a pay packet was on its way.
"It's not happened so far," she said.
"Apart from another chef who has been paid £1, nobody else has been paid.
"They are just totally taking the mickey.
"Suppliers have been phoning because they have not been paid."
Mrs Hutchison said the hotel could be a "brilliant, vibrant business."
She added: "It's like they have completely destroyed it."
According to Companies House, Kevin Penman was registered as the director of Markinch Limited based at the hotel's address in September.
He appears to have previously been involved in a number of companies which have since been dissolved.
A spokesperson for Banner's House said: "Banner's House has been operational for the last four years, and in this period the economy has changed dramatically for the hospitality industry.
"Customers are using pubs and restaurants less and when they do they expect much more for their money.
"It has been necessary to change the nature of the structure in Banner's, in an effort to streamline the overall business.
"This has regrettably led to one or two issues that are currently being resolved."