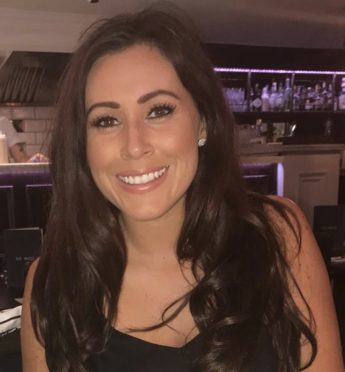 A Dunfermline woman who was diagnosed with a heart condition while she was pregnant with her first child is giving back to a lifeline charity.
Aimee Ellis was only 20 when she collapsed at work during the fourth month of her pregnancy and was rushed to hospital.
Medics discovered she had a low pulse rate and was suffering from complete heart block, meaning the organ was not beating correctly.
She was fitted with a pacemaker to help monitor and regulate her heart beat.
Now aged 31, Aimee regularly volunteers with British Heart Foundation Scotland and is backing the charity's Christmas Appeal to help raise funds for further research.
She said: "I'm always a positive person so on the surface I was saying I was fine, but it was terrifying.
"I was a young woman with a baby on the way and suddenly I was worried that I wasn't going to make it. It's like my baby saved my life.
"If I hadn't collapsed and been diagnosed at that point, I don't know what might have happened.
"I often meet people who are surprised to hear that I have a heart condition because I look young and healthy – it's not what they expect.  But heart and circulatory diseases really can affect anyone."
She said her own experience had motivated her to get involved and support the work of BHF Scotland.
"I'd encourage more local people to get involved with the Dunfermline fundraising group," she added.
James Cant, BHF Scotland Director, said Aimee's story was a real inspiration.
"She hasn't let her heart condition hold her back and we're really grateful to her for helping to raise awareness and funds in her community," he said.
"But sadly, many other families will be missing a loved one this Christmas because of heart and circulatory diseases.
"The generous support of the Scottish public will make a huge difference to our Christmas appeal by helping to fund life saving research to stop families from having to go through that."
One in four people in Scotland die from heart and circulatory diseases but the charity is working to change this.
The BHF Christmas appeal aims to raise at least £500,000 for life saving research into all heart and circulatory diseases.
To support it, visit www.bhf.org.uk/Christmas