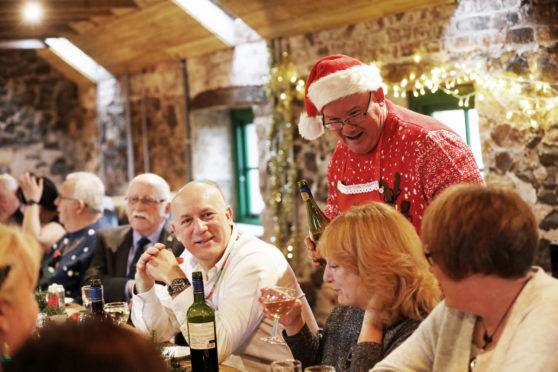 Lottery winners from Courier country served up a Christmas feast to RAF veterans and serving personnel.
Jim Forbes from Tayport, who is himself a RAF veteran, was among National Lottery winners with a combined wealth of more than £77 million who helped RAF Association (RAFA) members tuck in to turkey at The Rhynd in Leuchars.
Mr Forbes, who won £655,838 on Euromillions in September last year, said: "I served two tours from Leuchars air base from 2000 to 2009 and my wife Pam and I have a lot of happy memories from our time there.
"Giving back to RAF veterans and those actively serving is very important to us, so we've had a great day with the Leuchars RAFA and we've been chatting to the local branch officer to find out what more we can do in the future."
The festive gathering provided the finale to a special year for the organisation, which marked the centenary of both the RAF itself and the end of the First World War.
RAFA provides support to those actively serving in the RAF, veterans and their families. The Leuchars branch has been running since 1997 and has 329 active members.
The lottery winners arrived at The Rhynd wearing Christmas jumpers and carrying decorations and fairy lights to make the venue festive.
Mr Forbes and his wife Pamela were joined by Fred and Lesley Higgins from Laurencekirk, who won £57,975,367 on Euromillions in July.
Jake Bowman from Forfar, who won £10,317,199 on Lotto in 2016, also helped out, along with Dundee winners Ray and Sheila Storey, who won £1,050,000 in 2014.
Mr Storey is also a military veteran and served from 1970 to 1976.
He said: "I'm very proud of my time in the army and it was great being able to share stories with the RAF veterans and give them a bit of a treat in the run up to Christmas."
There were also winners from Musselburgh, Mid Calder, Stranraer and Dumfries.
Dave Mowatt, branch support officer for RAFA Leuchars, said: "Our RAFA branch is a very close-knit community with a mixture of veterans, serving members and their families. We were really pleased to be invited for Christmas dinner and can't thank the winners enough for their hospitality."