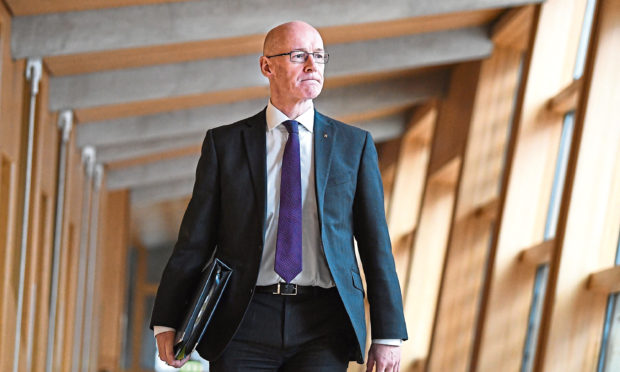 Scotland's Deputy First Minister has warned Fife's decision to scrap primary one testing has achieved nothing but increased cost to the taxpayer.
John Swinney, the Scottish Government's education secretary, said: "If Fife Council were to revert to their previous systems, primary one pupils would face two assessments per year, rather than the single assessment they currently undertake.
"It is difficult to see how this would address the concerns raised around workload and pupil experience.
"It is, in fact, the precise opposite of what they claim they are trying to achieve and would cost taxpayers more money to double the tests primary one pupils face. That makes little sense."
Last week, Fife councillors voted in favour of withdrawing Scottish National Standardised Assessments (SNSA) and reverting to the previously used Performance Indicators in Primary Schools (PIPS).
It was a defeat for the SNP group in the power sharing administration.
---
---
Labour, Conservative and Liberal Democrat councillors had argued the assessments took too long and were opposed by teachers, pupils and the EIS teaching union.
The SNP education convener Fay Sinclair accused the other parties of a "purely political vote" and said the move would disadvantage young pupils by taking away an essential tool used by teachers to identify learning needs.
There is also a cost implication, with SNSA paid for by the Scottish Government and PIPS local authority funded.
SNSA is currently subject to national review after concerns about the difficulty and appropriateness of the assessments were raised following their introduction last year.
According to the Scottish Government, the Association of Directors of Education in Scotland said no significant concerns had been raised about SNSA.
Fife EIS spokesman David Farmer said the union opposed any form of formal testing for primary ones and even PIPS was "not acceptable".
"We want to see the assessment of children in primary one done within the philosophy of the Curriculum for Excellence," said Mr Farmer.
"We're talking,essentially, about a play-based curriculum.
"We don't see how any kind of standardised assessment, whether SNSA or PIPS, really fits in with that philosophy."
He added: "Fife EIS applauds the decision by Fife Council to discontinue SNSA assessment for primary one pupils.
"It was a bold decision by elected members which opens the door for further discussions between Fife EIS and the education service to achieve a situation where children in primary one are assessed within the principles of Curriculum for Excellence.
"Fife EIS acknowledges that there is still work to be done here. A return to the former testing regime is not acceptable."