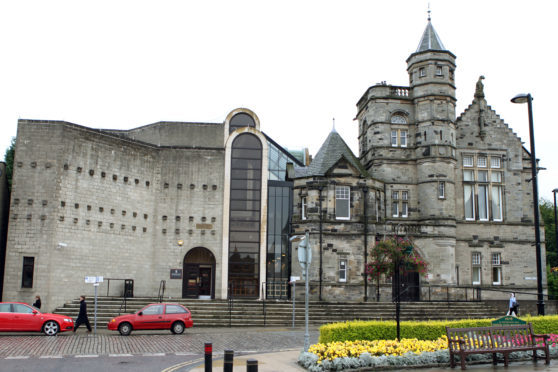 A Fife man was left with a broken hip after being attacked by a 'good samaritan' who thought he was about to drink-drive.
Ian Martin believed that his victim, Robert Small, was getting behind the wheel of a car after downing six pints of beer at Molly Malones in Leven on March 11.
The 45-year-old began gesticulating towards Mr Small, who was sitting in the front of his BMW car, before approaching the driver's side door.
As the car owner attempted to get out of the vehicle, Martin slammed the door shut on his body before punching him on the head.
He then threw Mr Small to the ground before leaving the scene and later handing himself in to the police.
Martin, of Whyterose Terrace in Methil, appeared at Kirkcaldy Sheriff Court where he pled guilty to one charge of assault to severe injury.
The court was told Mr Small had only been sitting inside the vehicle to collect his personal belongings before making his way home.
Depute fiscal Sarah Lumsden told the court both men had been drinking at the bar throughout the evening with no issue occurring until around 11pm.
She said: "Mr Small had parked his BMW adjacent to the kerb, directly outside the pub.
"There was no issue between witness Small and the accused within the pub. At around 11pm, Mr Small and the accused exited the pub. Mr Small entered the vehicle and was sat in the driver's seat to retrieve some personal items."
Defence solicitor David Bell said his client had become aware of Mr Small sitting in the vehicle and believed he may have been about to drive the vehicle whilst under the influence.
He said: "Mr Martin and his friend were outside having a chat when they saw Mr Small returning to his vehicle.
"My client became concerned that this was a man who should not be driving, having consumed a significant amount of alcohol and he has started gesticulating at Mr Small."
He added: "The slamming of the door is not as significant as it might appear.
"Mr Martin pins him in the door with an element of force.
"The injury was sustained by him throwing Mr Smith to the ground."
An injured Mr Small was taken home after the incident but was unable to stand and was in extreme pain.
An ambulance was called and he was taken to A&E at the Victoria Hospital in Kirkcaldy where it was found that he had a broken hip which required surgery.
Sheriff Jamie Gilchrist QC deferred sentence for background reports and released Martin on bail until January 21.