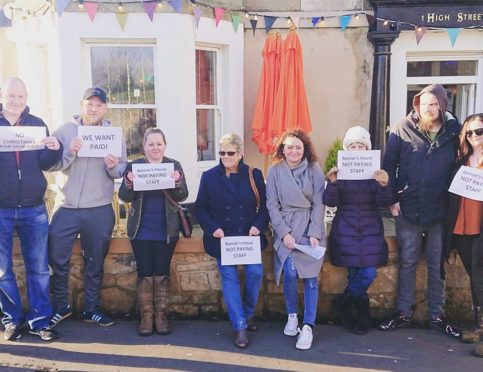 A head chef fears he will have to turn to help from a foodbank after a Fife hotel failed to pay its staff.
Andy Macleod, 30, has had to rely on the generosity of relatives after he was one of around 10 members of staff at Banner's House in Markinch who walked out, having not received their monthly wages at the end of November.
The Unite trade union is now involved in the dispute, which is likely to go to tribunal.
Unite said staff were owed a total of £8,020 in unpaid wages in addition to "thousands more in unpaid holidays".
Mr Macleod said: "I've never had to sign up before since I was 16 so this is pretty much the lowest point of my life.
"My gran has been really nice, buying us food, but I can't rely on that forever. I'll possibly have to think about going to a foodbank at the beginning of next year."
Mr Macleod had only worked at Banner's for a month and it was his first head chef position.
He believes he is owed in the region of £1,300.
His wife is currently suffering poor health and he said things are starting to look bleak because her sick pay is running out.
He said: "It was my first real go at being head chef, so I'd reached the top of my career path but this has put me off the industry a bit."
Last week, it was reported that staff at Banner's had had to go without wages when they were not paid at the end of last month. 
In the only response from Banner's House received by the Courier, the company said difficult trading conditions had made it necessary to streamline the business, adding: "This has regrettably led to one or two issues that are currently being resolved."
According to Companies House, Kevin Penman was registered as the director of Markinch Limited based at the hotel's address in September.
He appears to have previously been involved in a number of companies which have since been dissolved.
A spokesman for Unite said: "Our members at Banner's in Markinch are owed £8,020 in unpaid wages and thousands more in unpaid holidays.
"We shall be doing everything we can to get our members what they are entitled to.
"We would urge the owner Kevin Penman to do the right thing and pay his staff before Christmas."
On Wednesday night, unpaid staff, led by Bryan Simpson from Unite and the trade union group Better Than Zero, walked into Banner's asking to speak to Mr Penman and demand the wages owed to them.
However, Mr Penman was not there.
Former staff at Banners in Markinch are owed £8020 in unpaid wages for November/December and holiday pay accrued since June. As a consequence, workers have been left destitute an unable to pay rent never mind Christmas presents for their family.Today, 10 of the workers delivered their collective demand for monies owed to the owners of Markinch Limited. With the support of their union Unite Hospitality we will be doing everything we can to get the workers what they are owed.

Posted by Betterthanzero on Wednesday, 19 December 2018
Mr Simpson then informed a group of customers that staff had not been paid.
Chef Linda Hutchison, 37, who revealed last week she was waiting to be paid for 160 hours of work, was among those who went to Banner's on Wednesday.
She added: "It was only a table of, I think, five ladies. Bryan was very peaceful and they were completely fine, completely understanding of the situation."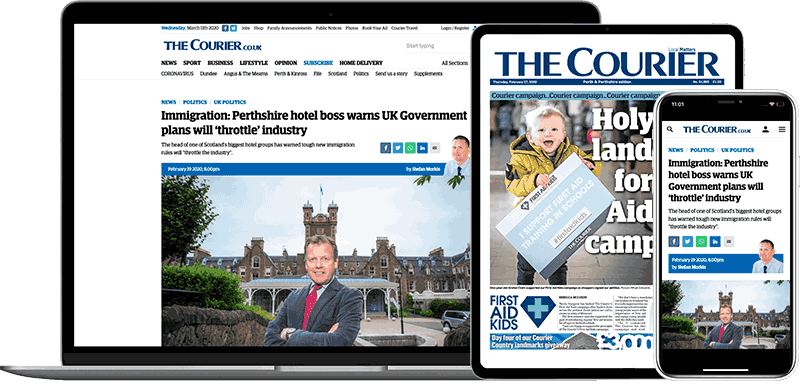 Help support quality local journalism … become a digital subscriber to The Courier
For as little as £5.99 a month you can access all of our content, including Premium articles.
Subscribe