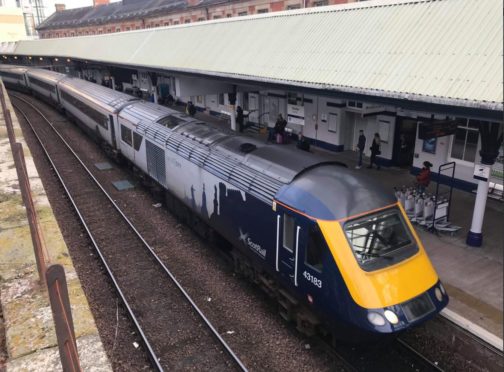 Rail bosses have been urged to make improving the standard of services their new year resolution.
After being inundated by constituents' concerns about train reliability in recent weeks, Kirkcaldy and Cowdenbeath Labour MP Lesley Laird revealed she has been assured ScotRail is aiming to restore Fife Circle services to normal by January 7.
The pledge was made by Alex Hynes, managing director of the ScotRail Alliance, who has also agreed in principle to Mrs Laird's request for a public meeting in Fife early in 2019.
She said: "ScotRail said "fixing Fife" was top of ScotRail's agenda after admitting services in our area were "unacceptably poor", also that Fife had been hardest hit of all regions.
"Fife's recent issues were 100% attributable to ScotRail and Abellio – not mostly the fault of Network Rail, as the SNP would often like us to believe.
"All cancellations resulted from crew unavailability because a drivers' training programme for high speed and electrical trains is behind schedule.
"However, ScotRail believes Fife passengers will see a steady reduction in cancellations over the coming days and aims to achieve zero cancellations by January 7.
"I'm well aware constituents are utterly fed up having to endure late, cancelled and overcrowded trains and for their sake, I hope ScotRail's New Year's resolution holds good, not just for January 7 but for the coming year.
"I'll be following progress closely in the months ahead."
Mr Hynes has also spoken with Mid Scotland and Fife Labour MSP Claire Baker, who has been campaigning for better services and earlier this year, held a Facebook Live event at ScotRail's offices in Glasgow to put points directly to management.
"Throughout 2018 we have seen ScotRail underperforming in Fife, culminating in the unacceptable delivery of the service in recent weeks and it is commuters in Fife that are suffering most of all," she said.
"I have been inundated with complaints from constituents. In a busy political year, it has regularly been the number one issue that I have had to deal with.
"ScotRail must make improving services in Fife their New Year's Resolution. We cannot have another year of continuing to pay over the odds for a terrible service.
"We need to see action in 2019 and I will continue to hold Scotrail to account. Commuters in Fife deserve better."
Fife SNP MSPs David Torrance, Jenny Gilruth, Annabelle Ewing and Shirley-Anne Somerville have also arranged a meeting with Mr Hynes l for the first week in January to discuss local service disruptions during December, the impact of the new timetables over the festive period and how they have bedded in, the extra seating capacity promised for the festive period and other issues relevant to Fife passengers – including those using Kirkcaldy, Kinghorn and Burntisland stations.
Kirkcaldy MSP Mr Torrance commented: "ScotRail's performance level has been causing me considerable concern in recent weeks and I will be taking a close interest in how service levels cope with extra demand over the year end holidays.
"The meeting with Alex Hynes early in the new year will give me the opportunity to raise all the current issues affecting my constituents."