A beloved Fife dinosaur statue has been badly damaged after a car smashed into him on Friday evening.
The artwork, named "Rexie", was standing in the middle of Caskieberran Roundabout in Glenrothes when the collision occurred at around 5pm.
The fibreglass tyrannosaurus rex, whose neck had been decorated with a festive tinsel decoration, was sent flying into the bushes after the Vauxhall Corsa careered into it.
No one, apart from the dinosaur, was injured in the crash and police temporarily closed the surrounding roads to allow for the vehicle to be recovered.
A Police Scotland spokesman said: "At around 4.45pm on December 28 2018, a one car road traffic collision occurred on the Caskieberran Roundabout, known locally as the dinosaur roundabout.
"A 64-year-old woman who was driving the vehicle was checked by ambulance staff at the scene and is not seriously injured.
"Unfortunately, significant damage was caused to the dinosaur sculpture which sat on the roundabout."
Rexie was previously damaged by a wayward vehicle in 2017, prompting calls from upset locals to fix the large chunks missing from his tail.
He was designed by town artist Malcolm Robertson in 1980 and quickly became part of many Glenrothes child's formative year when first installed in Waverley Drive.
He was later controversially moved to his current location in 2016 and was often spotted wearing fancy dress outfits thanks to adoring locals.
Local SNP councillor Julie Ford has already contacted Fife Council chiefs in a bid to seek reassurances that the beloved statue will be repaired.
She  said: "First of all, I'd like to say how glad I am that the woman who was in the car at the time of the crash was not injured.
"Although, I fully appreciate that she must be very shaken up. I send my best wishes to her.
"Secondly, as a local councillor, I'd like to advise that I have already been on to Fife Council's Head of Service about this issue and have asked that reassurance is given to the local community that all will be done to ensure this piece of much loved, local art is restored as soon as possible.
"We have the technology to do so, so I will be putting on pressure to ensure the technology is used."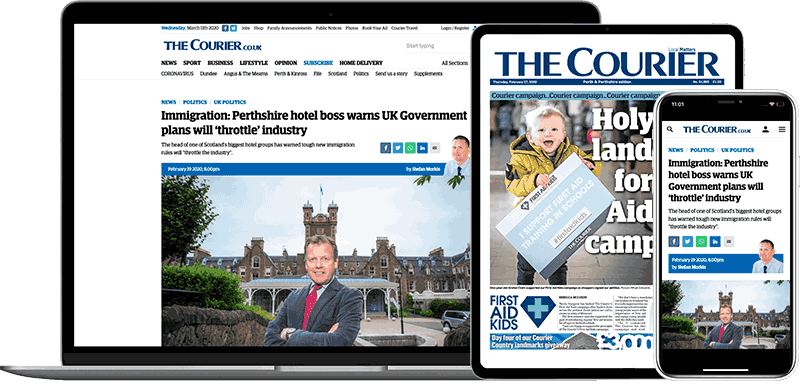 Help support quality local journalism … become a digital subscriber to The Courier
For as little as £5.99 a month you can access all of our content, including Premium articles.
Subscribe