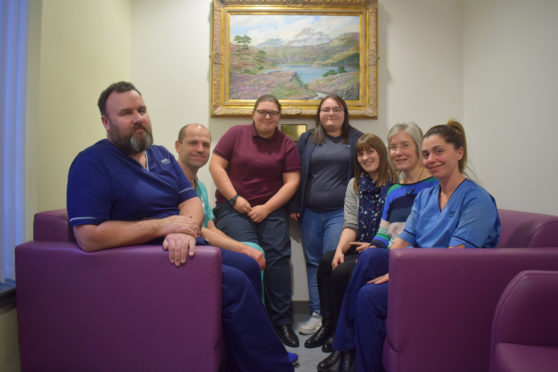 The heartbroken friends of a young Fife woman are helping the hospital unit where she lost her fight for life.
Twenty-year-old Demi Clarke from Ballingry sadly died on July 5 2017.
Now the pals of the trainee chef have raised a significant sum to refurbish the facilities for relatives in the intensive care unit at the Victoria Hospital in Kirkcaldy.
With the support of Demi's family, Jenni Rodgers, Anne Rodgers and Nicole Swatton began raising funds to create a lasting legacy in her memory on the ward where Demi fought so bravely for life.
The friends began the ICU fundraiser – in memory of Demi Clarke Facebook page — and over the course of many months raised £3,287.95.
The specific cause was chosen by supporters of the Facebook page, who voted in an online poll for how the funds should be used.
Jenni, Anne and Nicole also held a fundraising evening at the Adamson Hotel in Crossford.
Jenni said: "Demi received the very best care in the intensive care unit.
"The team of staff are highly skilled, determined and work tirelessly, and this was our way of saying thanks for their efforts in caring for Demi.
"We also want to give our thanks to all of those who have supported us along the journey for their donations, efforts and generosity towards the cause."
Fife community in shock at tragic death of young trainee chef
The relatives' room is used by families when visiting or staying over while their loved ones are being cared for.
Dr Marcia McDougall, a consultant in anaesthetics and clinical lead for intensive care, explained what the revamped facility will mean for families.
"The ICU cares for patients when they are at their most unwell, which is, of course, a really stressful and worrying time for the patients' loved ones.
"That is why the relatives' room is such an important resource for the family members of those we care for.
"The funds raised by Jenni, Anne and Nicole have enabled us to provide a much more comfortable place for loved ones to gather their thoughts, rest or even sleep overnight while their family member is in our care.
"All the ICU nurses and doctors would like to give our heartfelt thanks for their fundraising efforts and hope the room will provide a fitting memorial to their friend Demi."
Jenni, Anne and Nicole intend to continue their fundraising efforts for the unit.
For more details, visit https://www.facebook.com/ICUFundraiser.