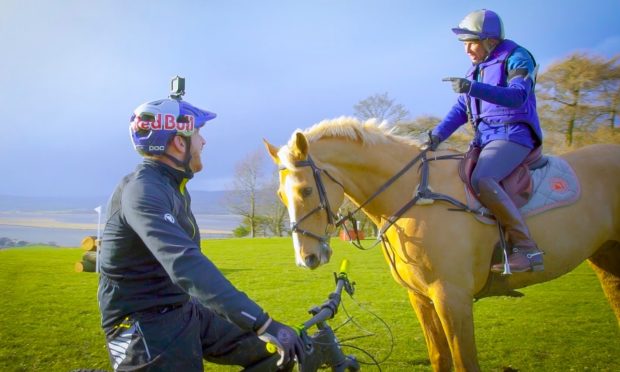 World famous mountain biker Danny MacAskill has completed a unique challenge on a Fife farm – racing a top level equestrian eventer.
The biker, whose last video outing to farm and holiday business Lindores attracted more than 25 million views on YouTube, took on eventer Louisa Milne Home and her horse Future Plans during a day of filming on the hills outside Newburgh.
Danny MacAskill – Horsing Around at Lindores

New Year, New Race, New Footage and to kick off the New Year we are giving you the chance to WIN a holiday! Watch this preview clip of Danny MacAskill biking against Louisa Milne Home Eventing on horseback and click on the link for details of how to enter: https://www.lindores.co.uk/danny-macaskill-at-lindores/ #bikes #horses #race #lindorestay

Posted by Lindores Equestrian on Tuesday, 1 January 2019
The clip goes live on Saturday with fans from the rarely overlapping mountain bike and equestrian worlds keen to see who will win the light-hearted challenge.
Danny MacAskill, who last visited farm, equestrian centre, and holiday lodges Lindores as part of filming for his Wee Day Out film, said: "Clips like this are just entertaining and fun to create, it was a bit off the cuff having never biked over horse jumps or really been around horses, but I love doing new stuff."
Danny raced Louisa over Lindores' cross country course, one of the three disciplines that make up the sport of equestrian eventing.
Louisa said: "Lindores is a fantastic place to train and I have been taking young horses to start their careers there since it opened. This was a very different training day to the normal international riders I compete with."
Part of the mountain biker's Wee Day Out film, released in 2016, was shot on the Fife farm. As part of a range of stunts, Danny balanced and rode his bike on top of a bale as it rolled down the hillside.
Anna Black, Lindores co-owner, said it was brilliant to see the biker back on the farm
"It was great to create the clip and admirable of both Danny and Louisa for being such sports."
"It was an absolute first for all of us and a bit of fun and adventure that replicates what guests can do when they stay with us."
The clip is available online at https://www.lindores.co.uk/danny-macaskill-at-lindores/
Danny MacAskill is a Scottish street trials professional rider for Inspired Bicycles Ltd. He was born and raised in Dunvegan on the Isle of Skye and came to the public attention in 2009 when a video of him performing bike tricks in Edinburgh became a viral hit.
Louisa Milne Home is one of the UK's top eventers and was long listed for the British Team for the European Championships.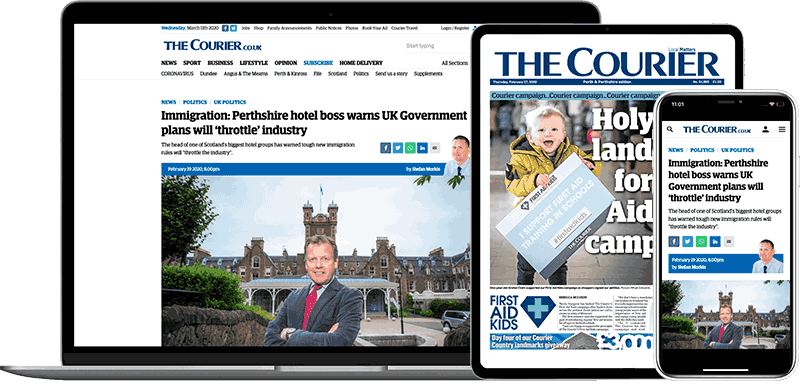 Help support quality local journalism … become a digital subscriber to The Courier
For as little as £5.99 a month you can access all of our content, including Premium articles.
Subscribe