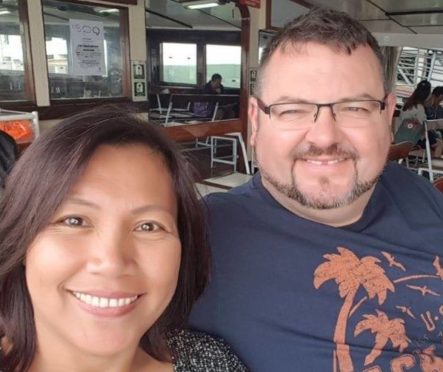 The Filipino wife of a Fife Black Watch veteran has been told she can finally meet her family in Scotland after a decision to refuse her visa application was overturned.
Jennifer Martin, 42, who married Andrew Martin of Methil in September, was denied the chance of spending Christmas with her new relatives when she was refused a visitor visa last year.
But after The Courier contacted the Home Office with the couple's story, she was told her visa has been granted.
"Jennifer will fly to Manila on Thursday and hand her passport over for processing," said Andrew, 49.
"It looks like Jen can celebrate her 43rd birthday in Scotland on February 17 with her new family."
When Jennifer's application was refused, Andrew flew out to Tagum City in the Philippines to be with his wife.
Over Christmas, the couple, dressed as Santa, spread some festive cheer by giving gifts to local children.
The couple met when Andrew, who became a construction manager after serving as an infantry corporal, was working in Qatar in 2015.
Andrew moved to the Philippines and set up a construction company in February last year but is currently based in London while he works on a contract.
He had hoped to introduce Jennifer to his family in Fife last Christmas but her visa application was denied in 2017.
And, despite the couple getting married, the same happened the next year, with the Home Office stating it was not convinced Jennifer would return to the Philippines after the visit.
After the application was refused a second time, Andrew said: "We were both devastated in 2017 when Jen's application was rejected on the basis she had too much money in her account — they could not verify she had access to it and they did not believe she would return to her home country after the vacation.
"They said any application in future would be rejected unless her circumstances changed dramatically.
"I thought being married would be a dramatic change in anyone's circumstances but I am obviously wrong.
"What hurts me the most is Jen is being accused of making a fraudulent visa application."
But, following questioning by The Courier and a subsequent rethink by the Home Office, the couple's relatives in Fife are preparing for a big party.
Andrew's brother Ian said: "Jen was so pleased after the British embassy in Manila had called her. Really couldn't take the smile from her face. Still can't.
"Andy's daughters will organise a party for her and she will meet everyone from over here then. What a lovely birthday it promises to be for her. It'll be fantastic too for all of her in-laws here to meet her, especially Andy's kids and grandkids.
"This is a very pleasant surprise and makes up somewhat for the two not being here for the last two Christmases."
A Home Office spokesperson said: "All applications are considered on their individual merits and in line with the immigration rules."