Michael Alexander meets the caddie manager and some of the caddies who work at St Andrews – the Home of Golf.
Standing on the tee of the 411-yard second hole, Dundee man Henry McTaggart is sizing up the best line for his drive on what is his first ever round of the world famous Old Course in St Andrews.
The 76-year-old, who happens to be the brother of Olympic and Commonwealth gold medal winning Dundee boxer Dick McTaggart, could have relied on the advice of his grandson and playing partner Aaron Harrison, 25, to get round the 18-hole course on this cold and windy Thursday morning.
However, having been successful in the much-in-demand Old Course ballot, they have decided to request the professional services of two St Andrews Links Trust caddies for expert advice on the best way round.
"Right sir, you'll see the bunker down the fairway there," says redundant stockbroker turned caddie Simon Blackmore, 44, of Kingsbarns, as he advises Henry on the best line to take.
"Just keep it a little to the right side of the trap. There's plenty room as you can see there. Almost aim it towards the guys on the green – use that as your target. There's a lot of room down there!"
Henry, who plays off a 24 handicap, strikes the ball sweetly – landing in the middle of the fairway.
"Solid hit! That'll do you fine!" says Simon, as he and fellow caddie Alex Howie, 52, from Cupar, who has already aided Aaron, pick up their players' golf bags and stride onwards to offer advice on the next shot.
Having been hooked up through the St Andrews Links online caddie request system and having only met the amateur players for the first time around 10 minutes before teeing off at the first, a good caddie will suss out early on what level the golfers play at – and adapt to whether they are 'serious' players or people more intent on going round the course for fun.
However, with caddying entwined in the unrivalled 600-year history of golf at St Andrews, the St Andrews Links Trust – which issues caddying licences and manages the more than 230,000 rounds that are played over the seven St Andrews public courses each year – is keen to stress that the professionalism and career opportunities for caddies, who are self-employed, are better than ever before.
One of the most visible signs of modernisation has been the recent construction of a new 'caddie shack' adjacent to the first fairway of the Old Course, and it's here that The Courier catches up with caddie manager Fraser Riddler and several seasoned caddies to hear how the perception of St Andrews caddies has changed.
Fraser, 39, born and bred in Arbroath, initially went in to family business Riddler's Coaches when he left Arbroath High School.
However, when he was 24, an opportunity arose to join the caddie team in St Andrews – and the sports mad lad found he had a "natural ability".
Making quick progress, he caddied at the Dunhill Links Championship then worked on the European Tour with young French professional golfer Alexander Kaleka for three years – travelling worldwide.
However, being away from his family for 35 weeks of the year was a "drawback", and in 2012 he landed a managerial role at the Trump resort in Aberdeenshire before being "semi-head-hunted" to return to St Andrews as caddie manager in 2016.
"The caddies and the recruitment we have done has changed massively in the time I've been here," he says, acknowledging that in previous decades, local caddies often had an image problem, and that changed demographics made it harder to recruit local people.
"When I came back here I was tasked with modernising the caddie programme. We inherited some tremendous caddies, but the age group was getting older and older. It was part of my remit to modernise the programme and update that image."
Fraser, who runs the in-house caddie training programme, said 60% of today's St Andrews caddies come from Fife/Tayside.
But the links trust has opened up the recruitment process nationally and internationally, making it more of a structured career option for young people.
Last year there were eight female caddies on the books and it's hoped in future there will be more.
From April 1 it will cost £55 (plus gratuity) to hire a caddie with the plan for 2019 to licence 210. In 2018 there were 33,400 caddie rounds on St Andrews Links courses – meaning that 14% of golfers playing on St Andrews Links courses used a caddie.
However, with a greater number of visiting golfers tending to make use of caddies than local players, the Old Course always at saturation point for games and the other links trust courses helping to take up the slack, demand for caddies is on the rise.
Brian Martin, 53, regarded by his bosses as "your typical charismatic Scottish old skool caddie", has been a caddie in his home town for 30 years.
Describing it as a "way of life", the gentle giant recalls the more unregulated days when "anyone could turn up to caddie"; when "old characters"– often with reputations for "drink and gambling" – would sleep in the old Bruce Embankment shelter near the beach.
The Open and Senior Open veteran remembers a sad occasion many years ago when an old caddie was found dead there and an appeal was put in the newspaper to trace his relatives.
St Andrews-born John Paisley of Lundin Links, who has been caddying for 33 years, also recalls the days when the old caddie shack behind the 18th green of the Old Course used to "wreak of smoke and drink". 'Backsides' would also be "hanging out of breeks!" he adds.
Times have changed, however, with the golfing game now run "more like a business" in St Andrews.
The 52-year-old, who grew up on a farm near Colinsburgh, took up golf aged 12.
The three handicapper "got the bug" to become a caddie after watching every shot by the late Seve Ballesteros as he famously went on to win the Open at St Andrews in 1984.
An attraction of the job is the variety and the outdoor life – although walking up to 60 miles per week in all weathers can lead to knee, hip and back injuries over time. However, despite his own golfing prowess, he said many of the best caddies don't play golf at all – they simply have a deep understanding of the game.
"I've done the Open, two ladies' Opens and the Senior Open in 2018," he says.
"I also caddied for five years in Florida. But I still put the 2007 ladies Open at St Andrews down as my favourite experience. I ended up caddying for Reilley Rankin from South Carolina. Reilley had a bad back injury when at college in America. She was told she would never play golf again – defying all the odds going on to win a college tournament.
"On the practice round in St Andrews she packed in after four holes due to the recurring injury. She walked the rest of the round. What made it my most memorable was when she said 'put a club in my hand and I'll hit it'. She finished fourth!"
Of course sometimes visiting golfers build up such a rapport with their caddie that if they ever return, they ask to play with the same one again.
A classic relationship from a bygone era was the partnership struck between the late St Andrews caddie Tip Anderson and the late American golf pro Arnold Palmer who won numerous championships.
Those legends might be gone, but their legacy live on, with brand new chapters of golfing folklore yet to be written – and a new generation of caddies ready to walk with them every step of the way…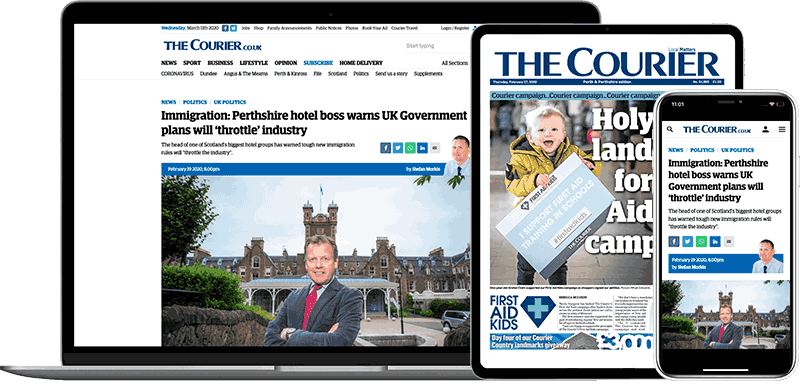 Help support quality local journalism … become a digital subscriber to The Courier
For as little as £5.99 a month you can access all of our content, including Premium articles.
Subscribe