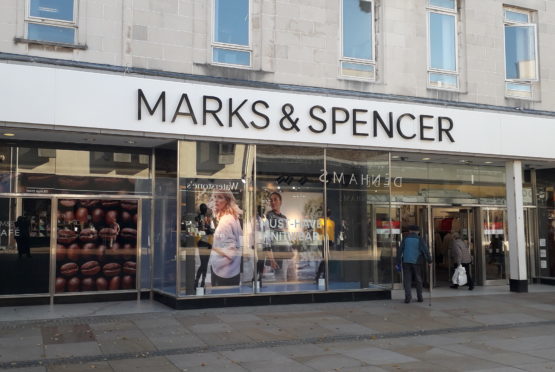 Kirkcaldy's High Street Marks and Spencer will close on February 5.
The bad news for the town centre was announced as it was revealed the following day will see the opening of the beleaguered High Street giant's new Glenrothes Foodhall.
Kirkcaldy was dealt a blow last October when it was revealed the store, which had been an anchor of the town centre for eight decades, was being axed.
The closure came as part of the ailing chain's plans to axe more than 100 branches by 2022.
Some 74 members of staff in Kirkcaldy were affected by the news.
When the High Street store closes early next month the majority of staff will stay with Marks and Spencer.
Some will be moving to nearby stores, including the M&S Foodhall in Fife Central Retail Park in Kirkcaldy.
Others will be redeployed to the new Glenrothes food outlet at The Henge.
Kirkcaldy store manager Ryan O'Donovan is moving to Glenrothes to lead the 42-strong team.
Mr O'Donovan, who has worked at M&S for seven years, said: "M&S has served customers across the Fife region for generations and my team and I are really excited about being able to extend our reach into Glenrothes.
"We'll be working hard to provide outstanding service for the community.
"Cutting the ribbon to open our Foodhall and welcoming customers in for the first time will be a great moment for the team.
"I hope that lots of local residents will pop down and join us to celebrate."
The Kirkcaldy closure leaves another huge hole in a town centre already reeling from the loss of its huge Tesco supermarket and a massive British Home Stores branch in recent years.
At that time Shona Lawrie, the head of region for Scotland, said the decision to close the flagship store had been incredibly difficult.
She added that closing and relocating stores was never easy but it was "vital for the future of M&S".
Lesley Laird, Labour MP for Kirkcaldy and Cowdenbeath said: "The closure of Kirkcaldy's M&S feels like the end of a golden era for retail in our town centre.
"However, Kirkcaldy is far from alone in that – key anchor stores have been closing at an accelerated rate in high streets up and down the country, especially over the last year.
"That's why it's important that we must focus now on creating new uses for Kirkcaldy High Street, with a cinema at the heart of that plan, in order to increase footfall and support existing shops."
At the time of the announcement,  SNP MSP David Torrance admitted that as one of the last remaining food retailers on the High Street, its loss was yet another setback for the town.
This week Conservative councillor Richard Watt will call on fellow Kirkcaldy area committee members to back plans to bring forward the time frame for a town centre parking charge scheme to help the ailing High Street.