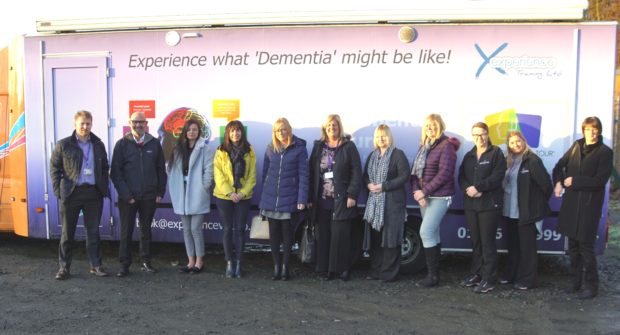 As Scotland plans for an ageing population, Kingdom Housing Association is preparing for the future.
It has become one of the first social landlords in the country to introduce dementia training courses for staff and the first organisation which operates across Fife to receive the Dementia Friendly Fife award.
Kingdom worked with Alzheimer's Scotland and Fife Council to attain dementia-friendly status.
The training included a virtual dementia tour, which is said to be the closest experience that can be given of what dementia might be like.
By understanding dementia from the person's point of view, Kingdom said it can change practices and improve the service for customers.
Group chief executive Bill Banks said the training will assist staff when providing advice and assistance services to customers.
"The virtual tour was a very realistic way to help understand the issues experienced by people living with dementia and it provided everyone with a much better understanding of the challenges, which have a much wider impact than memory loss.
"I would encourage all social landlords and care providers to consider the virtual experience as part of their training plans," he said.
Alzheimer's Scotland and Fife Council delivered a series of dementia friends courses to staff.
The association's learning and development officer Andy Smith said he found them "eye opening".
"The statistics relating to dementia are astounding and it is likely that most of us already know someone who is directly or indirectly living with dementia.
"The training resources answer a lot of the questions people may have about living with dementia, highlighting the signs to be aware of, both professionally and personally and the actions and options to help those around us living with dementia."
Head of housing Matthew Busher explained the rationale behind the training.
"A recent Scottish Government report highlighted dementia care as an issue of increasing importance given the projected demographic shifts in the population.
"We are likely to be increasingly involved in providing, designing and delivering buildings and services that are suitable and appropriate for people who have dementia and we felt the training was relevant to all our service areas."
Ruth McCabe, Fife Council's lead on Dementia Friends Fife project, helped deliver the training and was delighted Kingdom had embraced becoming dementia friendly with such commitment and enthusiasm.
"It is asking a lot for staff to give up an hour of their time to become dementia friends and the level of engagement during the sessions has been exceptionally high.
Glenn Knight, the managing director at Training 2 CARE, which gave the virtual dementia tour, said: "Rarely do we see organisations that understand the need to change and all at Training 2 CARE look forward to watching this development."