Like a phoenix from the flames, a beloved Fife dinosaur statue which was thought to be beyond repair following a post-Christmas car crash is set to rise from the "dead" once more.
Fife Council has confirmed it is seeking quotes to repair Rexie — arguably the most popular piece of public artwork in Glenrothes in recent decades.
The Tyrannosaurus Rex sculpture, which had pride of place on the new town's Caskieberran Roundabout, suffered "significant damage" when it was clattered by a car and has since been completely removed from the site.
Tyrannosaurus wrecked – beloved Glenrothes dinosaur a goner after crash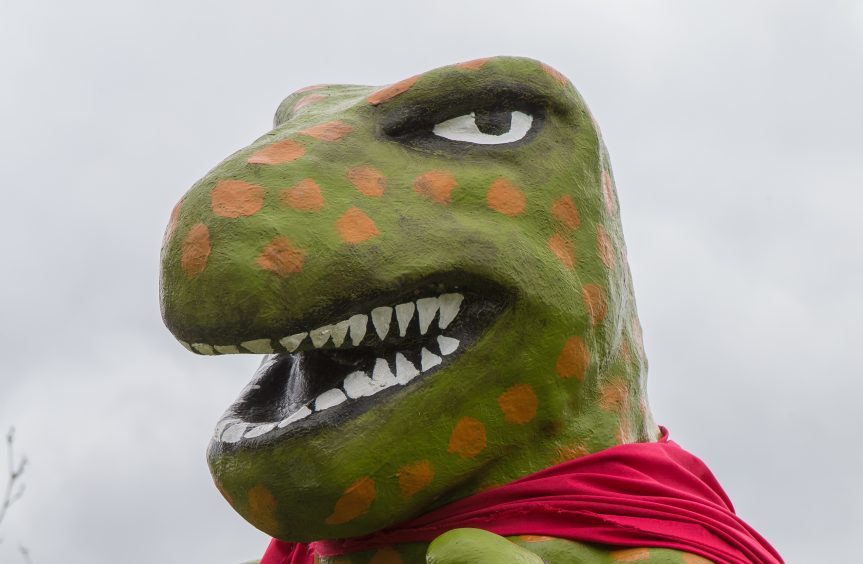 The 64-year-old driver was not seriously injured but the accident was the second time in just over a year that Rexie was badly damaged by a car – prompting fears that the Jurassic giant might never be restored to its former glory.
However, local authority officials are optimistic that Rexie will be back on the roundabout as soon as possible.
Kevin Jollicoeur, area officers with parks, streets and open spaces, said: "We've removed Rexie from the roundabout this week and are arranging quotes for repair.
"All being well he'll be back in place soon."
Local SNP councillor Julie Ford had sought reassurances that all would be done to ensure Rexie's return.
Fellow local SNP councillor Craig Walker echoed her call, saying: "Rexie is amongst the best known and most popular of the Glenrothes art collection."
Rexie previously came a cropper in October 2017 when large chunks of fibreglass had to be removed after it was struck by an errant vehicle.
Many local residents campaigned for the sculpture to remain at its former location in Waverley Drive in 2011, but it was moved as part of a £15,000 package of repairs and relocations.
Local group The Tam Tam Band wrote a song called 'You Rexie Thing' – sung to the tune of Hot Chocolate's 80s hit You Sexy Thing – as part of the protest.
The song also sampled the Was (Not Was) record Walk The Dinosaur and featured the lyric: "Caskieberran get off the floor, everybody save the dinosaur."
Former town MSP Tricia Marwick accused Fife Council of "arrogance and stupidity" for moving the much-loved sculpture.
"Rexie had been safe for 40 years and then it was moved to a roundabout," she said.
"I will never forgive them for this cultural vandalism."