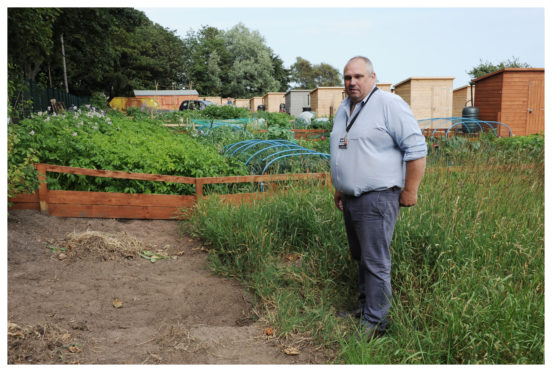 Furious allotment holders in Fife say they have been left well out-of-pocket after their plots were at the centre of a bomb scare last summer.
Bomb disposal experts were called to sweep the allotments at Silverburn Park after three explosive devices were unearthed by gardeners in June and July, with Fife Council now suggesting that the land in Leven will be back open early this year.
An irate plot holder said she has been short-changed by the scare, which saw well-tended vegetable patches abandoned at the peak of the growing season.
She said the council could have acted more quickly to ensure the allotments, which are used by children from Parkhill Primary School, were safe.
Denying the claim, allotments officer Peter Duncan said: "Once we were alerted to the discoveries at Silverburn last summer we followed advice from emergency services and specialist contractors, swiftly cordoning the area off and warning all allotment holders not to dig on their plots until further notice."
The took the action after two explosive devices were discovered in June.
Despite the warning not to work on the ground, a gardener dug up a third grenade the next month.
Mr Duncan said: "We're continuing to work with specialists at the site so that plot holders can return to their allotments before the start of the growing season.
"We've told all plot holders they'll receive a full refund for their allotment rental in 2018 or, if they wish, it can be carried over to pay for the year ahead.
"At our meeting with plot holders we also committed to replacing or repairing any property or infrastructure on site, should it be damaged through this process."
However, the allotment holder who contacted The Courier, and asked not to be named, said she was "absolutely fizzing" about the way the matter had been handled, claiming she had been given no updates from the council despite being told she would be able to access her plot this month.
"We were told about January at the very latest," she said, adding that several other plot holders feel the same way.
"Then we would have access to repair things. We've not even been given information by January, far less be given our plots back."
She said she spent in the region of £1,000 before having to abandon her allotment, adding that the site was now "overgrown" and an "eyesore".
"People have spent a lot of money on new plants, shrubs, gardening tools and painting their sheds," she said.
"People have put in a lot of work, elderly people and people who don't have gardens."
The allotments were opened last year as part of Fife Employment Access Trust's redevelopment of the park.
The ordnance found was a legacy of the site's military past, having been used by Polish soldiers in training during the war.