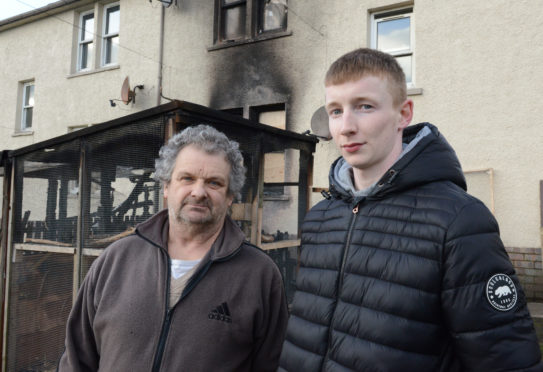 A fire in an aviary which destroyed around 30 exotic birds could also have killed people who live beside it, neighbours warned.
The blaze in East Wemyss is believed to have been started deliberately and police are investigating. The incident happened in the early hours of Thursday.
As well as wiping out  the birds and their home, it damaged flats just a few feet from the wooden structure.
Neighbour Jim O'Brien, 53, who tried to save the birds, was treated for smoke inhalation.
Aviary owner William Dickson, 65, said he was distraught "that someone would actually do that to live birds."
He was roused shortly before 2am by neighbour Steven Bell, 21, who spotted the flames and called the fire brigade.
Steven, whose upstairs flat is beside the aviary, also woke his downstairs neighbour Gary Proudfoot who, luckily, had fallen asleep on his sofa and was not in his bedroom, which was badly smoke damaged.
He also alerted his father Jim, a former soldier and retired lorry driver, who lives across the road and rushed over in his pyjamas.
Steven said: "We got the hose and tried to put the fire out. We got the gate open and tried to get in to save some of the birds but it was too late.
"The flames were up as high as the roof of the houses. Within 20 minutes it was just engulfed."
Jim tried to cut the wire of the aviary to free some of the birds, which included cockatiels, parrots, budgerigars and zebra finches.
He said: "There were three birds in the corner still flapping and I thought I might be able to get them out but the heat was just so intense. It floored me."
Paramedics treated Jim, who has chronic obstructive pulmonary disease, at the scene.
He said he was sickened by the incident but said the consequences could have been far worse.
"They could have caused a couple of deaths," he said.
Fire crews from Methil arrived within five minutes and prevented the blaze spreading further.
A joint investigation is being conducted by the Scottish Fire and Rescue Service and Police Scotland, which confirmed it was treating the incident as wilful fireraising.
A police spokeswoman said: "Police in Fife are conducting enquiries with the Scottish Fire and Rescue Service to establish the cause of a fire in East Wemyss.
"The incident was reported in William Street shortly before 2am on Thursday, January 10.
"A bird coop, which housed around 30 exotic birds, was destroyed and damage was caused to a nearby home.
"A man in his fifties was treated at the scene by the Scottish Ambulance Service for smoke inhalation.
"Anyone who may have information which can help is asked to contact Police Scotland via 101, quoting incident number 0201 of January 10."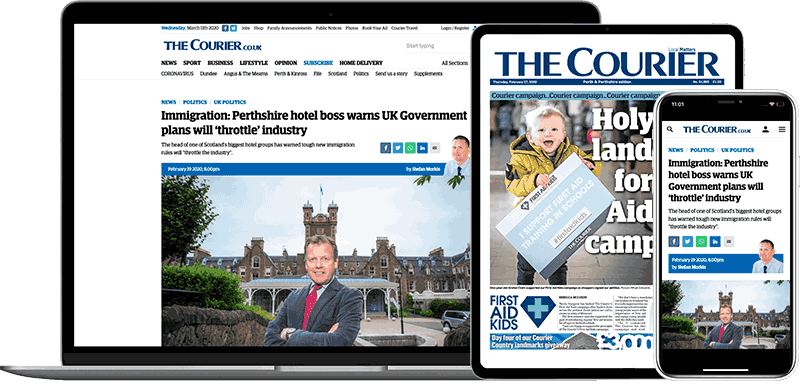 Help support quality local journalism … become a digital subscriber to The Courier
For as little as £5.99 a month you can access all of our content, including Premium articles.
Subscribe