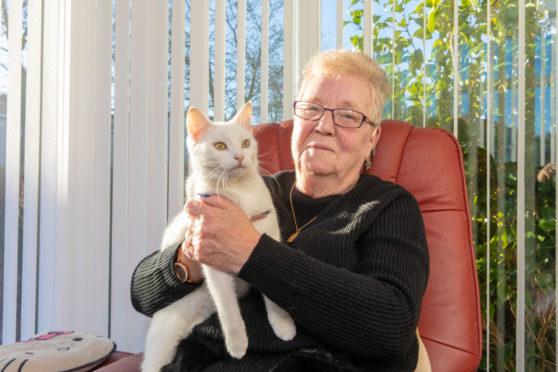 A Glenrothes family have been reunited with their beloved pet cat after it travelled more than 70 miles in the back of a delivery van.
Agnes Burns was heartbroken to discover 18-month-old Lilli was missing from her home in Macedonia on January 2.
The 66-year-old and her family scoured the local area in an effort to find the young cat, which is completely deaf, but found no sign of her.
Mrs Burns decided to call a furniture company who had delivered a bed to her home on the day Lilli vanished to check if they had found her.
Hopes began to fade when the firm said its workmen had seen no sign of the cat.
However, five days later, retired nurse Agnes received a call back from It's Beds and Pine in Cardenden, which had sold her the bed, to say a white cat had been found on the premises.
The owners raced down to the site and fought back tears of joy at being reunited with little Lilli who was hungry but unharmed following her adventure.
Agnes said: "We jumped in the car and went straight down to Cardenden and there she was out the back, underneath a big shipping container.
"My husband had a look at it was definitely her. He grabbed a hold of her, because there wasn't much point shouting on her, and it was her.
"I was trying so hard not to cry. That was about five days she was missing."
The family had scoured the streets and nearby woods after Lilli vanished.
"We started to panic," said Agnes.
"We couldn't find her anywhere. My husband went out looking in case she had been run down with her being deaf.
"Just across from us some woods so he went round looking there and took the dogs but couldn't see anything."
When she didn't come back the day after the bed was delivered, Agnes called Beds and Pine on the off chance she had hitched a ride in its van.
"They said the boys hadn't seen her come out the van or anything so we just kept searching," she said.
"I reckon she was in the back of the van and when they've got back to Cardenden she's jumped out.
"Luckily it was there and not in Edinburgh. She was absolutely starving by the time she got home.
"But she's home safe and sound and that's the main thing. Thankfully Beds and Pine remembered I had called and phoned us. I'm so grateful to them."
The furniture company said Lilli had been on a trip to Milnathort, Kinross and Edinburgh, before being reunited with her owners.