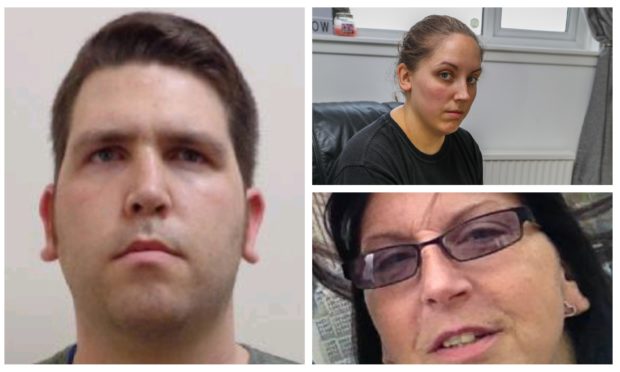 The family of a Fife woman who was murdered by her son say they have been given a week to clear her clothes from the house – or he will sell them at auction.
Lorraine Bristow accused her brother Ross Taggart of tormenting her by barring her from the family home.
Taggart is now said to have given his sister a week to collect their mum's clothes before the contents are sold at auction.
"His benefit, I think, is to torture myself," she said.
"I have no idea why, he's already taken half of my family away."
Taggart, 32, murdered their mother Carol Taggart at her home in Dunfermline in December 2014 then hid her body under a caravan at Pettycur Bay.
He is serving a minimum 18-year prison sentence after being convicted of the killing in 2015.
However, he is also executor of his mother's £500,000 estate and has blocked previous requests from Lorraine to be allowed to visit the house and take personal belongings for keepsakes.
Earlier this week, Lorraine revealed she and husband Stephen were trying to raise £40,000 for a legal challenge to remove him as executor.
A petition has amassed more than 18,000 signatures and the Scottish Government has said it will examine the issue.
Dance teacher Lorraine said the feud was "crippling" her life.
Fife family launch fundraising campaign to have killer removed as executor of victim's will
"I don't understand what benefit he is getting, sitting in a prison cell, telling me what I can or can't do with my mum's personal belongings and the house," she said.
Taggart is banned from receiving assets from the estate but has control of decisions over it – including restricting the family's access to Carol Anne's house in Dunfermline.
Lorraine previously told of her heartbreak after she was allowed a short one-hour visit to her mum's home following a near four-year battle to gain access.
The 30-year-old found the formerly pristine house had become infested with bugs and mice, which had chewed a mattress and made nests throughout the property.
Dance teacher Lorraine said she was only allowed to spend time in her mother's bedroom and had to be accompanied by her brother's lawyers throughout the October visit.
The family have now also launched a petition in an attempt to persuade the Scottish Government to change the law so that convicted murderers can no longer act as will executors.
The campaign has already gathered more than 18,000 signatures.
To donate to the legal fund, visit www.gofundme.com/remove-a-convicted-murderer-from-being-executor